DoJ Wants Divestments from US Airways, Amazon Preps 'Alpha House,' and 3 More Hot Stocks
US Airways Group (NYSE:LCC): In order to clear US Airway's merger with AMR Corp.'s (AAMRQ.PK) American Airlines for approval, the U.S. Department of Justice reported that it wants both US Airways and American to divest some of their respective assets at key airports across the U.S.  The department listed more than 1,000 city pairings where the airlines hold a dominant position in August and where the tie-up could hurt competition. In the event that no agreement is reached, the case will go to trial toward the end of the month.

Amazon.com Inc. (NASDAQ:AMZN): In less than two weeks, Amazon will debut the first three episodes of "Alpha House," Amazon's first attempt at original programming. Each episode of the political drama is reported to have cost the retailer between $1 million and $3 million; Amazon's streaming programming is free for all Amazon Prime customers, as the company moves to persuade users to buy into its growing ecosystem.
Nokia Corp. (NYSE:NOK): AllThingsD is reporting that Nokia has extended its licensing agreement with Samsung Electronics (SSNLF.PK) for another five years, as the agreement was scheduled to expire by the end of this year. However, Ina Fried writes that "a clause in the deal means that the price to Samsung will have to be determined through binding arbitration that likely won't be concluded until 2015," while the new terms are "expected to save significant transaction costs for both parties," Nokia Chief Intellectual Property Officer Paul Melin said to AllThingsD.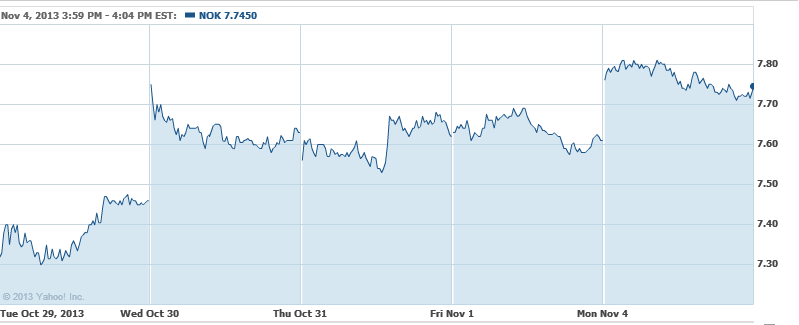 Merck & Co. (NYSE:MRK): The combination of oral drugs MK-5172 and MK-8742 yielded high cure rates in a Phase II trial of 65 previously untreated patients suffering from Hepatitis C, and when given on their own (as opposed to given with an older medication), the combination cured 100 percent of subjects after 12 weeks, Merck announced. Further, Merck's V503 vaccine for human papillomavirus also showed promising results, having outperformed the company's Gardasil shot in a Phase III trial.

RadioShack Corp. (NYSE:RSH) Refinancing efforts at the electronics retailer has given the company about 41 days of life at its current cash burn rate, according to some number crunching by Seeking Alpha contributor Stock Stooge. The writer warns that RadioShack likely won't survive the six months of slower sales after the big holiday rush; shares have been trading lower on Monday in response.

Don't Miss: Bruised But Not Broken: U.S. Manufacturing Weathers the Storm.