Dole CEO Makes Offer For the Company and 2 Other Hot Stocks to Watch
Dole Food Company (NYSE:DOLE): Current price $12.40
Shares were up by over 20 percent in morning trading Tuesday, after the company's biggest shareholder Chairman and Chief Executive David Murdock made an offer to purchase the largest fruit-and-vegetable producer on earth for around $1.5 billion. Murdock, who controls 40 percent of the float, offered $12 per share, marking an 18 percent premium to Monday's close. The CEO said that he hopes to close by the end of July, but is awaiting approval from the board, which has now formed a special independent committee to examine the proposal. Over a year ago, Dole initiated a strategic review after earnings disappointments, and had said that it was exploring a potential sale, together with other options. Earlier in 2013 it divested its packaged foods and Asia fresh produce arm to Japan's Itochu Corp.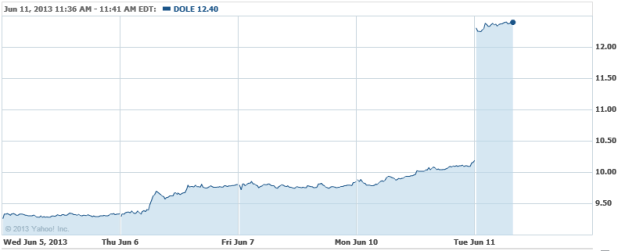 Sprint Nextel Corporation (NYSE:S): Current price $7.37
About a month ago, Japan's Softbank was challenged by a competitor to up its ante on Sprint, and now here we are: $1.5 billion more for the American carrier, which brings the aggregate offer to $21.6 billion, but which is still under the $25.5 billion offered by Dish Network in April. Sprint had ended talks with Dish and gave it until June 18 for a best and final offer. This revised bid announced late Monday by Softbank implies that it still seeks to assuage any Sprint shareholders who are not yet sold on the deal.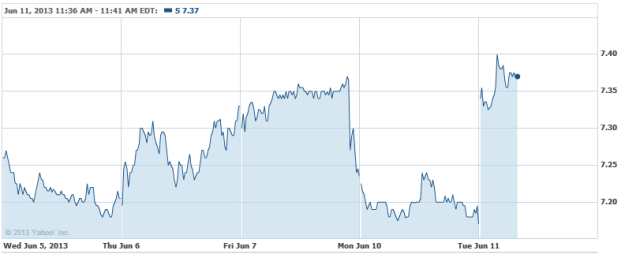 Citigroup (NYSE:C): Current price $50.42
The Portales Partners research leader Charles Peabody has gone out on a limb, by suggesting that Citi shareholders sell their shares, as he says that the company could lose up to $7 billion given certain currency swings. Peabody is only one out of four analysts being tracked by Bloomberg who is of this opinion, while the other predict that the stock will be the star performer among big domestic banks for the next year. However, Peabody estimates that the bank could lose from $5 billion to $7 billion in regulatory capital in 2013, if the dollar appreciates against the yen, euro and currencies in emerging markets, from which Citi gets about half of its profit — the catch, of course, would be when the foreign revenues are converted into dollars, which would be more expensive. Former Chief Executive Vikram Pandit had expanded Citigroup's overseas businesses to help it recover from 2008 credit crisis in the United States, and now Peabody says that the bank's reliance on revenue from abroad is now pushing his fear that a world economic slowdown will Citi more than its American rivals.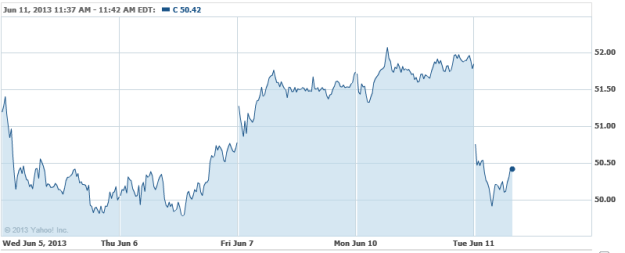 Investing Insights: Is Kraft Expensive or Undervalued?