Dollar General Earnings Cheat Sheet: Strong Same Store Sales Growth of 5.4%
Dollar General Corporation (NYSE:DG) reported its results for the second quarter. Dollar General Corporation is a discount retailer in the United States and operates convenient-sized stores to deliver everyday low prices on products that families use every day.
Don't Miss: Wall St. Cheat Sheet's newest Feature Trades of the Month!
Dollar General Earnings Cheat Sheet for the Second Quarter
Results: Net income for the company rose to $157 million (45 cents/share) vs. $136 million (39 cents per share) in the year earlier quarter. A rise of 15 %.
Revenue: Revenue rose to $3.45 billion from $3.11 billion a year earlier.
Actual vs. Wall St. Expectations: DG reported adjusted net income of 48 cents per share. By that measure, the company fell short of the mean analyst estimate of 50 cents/share. Estimates ranged from 46 cents per share to 52 cents per share. Analysts were expecting revenue of $3.42 billion.
Quoting Management: "Dollar General is off to a great start in 2011," said Rick Dreiling, chairman and chief executive officer. "Our first quarter sales exceeded our expectations with strong same-store sales growth of 5.4 percent. As I look back on the first quarter, we maintained our focus on serving our customers and worked to hold the line where we reasonably could when it came to raising prices in an environment of rising commodity and fuel costs. Our customers are depending on Dollar General more than ever for consistent value and convenience. "In spite of expected gross margin headwinds, we remain well positioned to deliver on our financial outlook for fiscal 2011 as we invest for the long-term health of the Company," Dreiling said.
Key Stats:
The company fell short of forecasts after beating estimates in the previous two quarters. In first quarter, it topped the mark by 5 cents, and in fourth quarter of the last fiscal year, it was ahead by 4 cents.
Competitors to Watch: Family Dollar Stores, Inc. (NYSE:FDO), 99 Cents Only Stores (NYSE:NDN), Dollar Tree, Inc. (NASDAQ:DLTR), Wal-Mart Stores, Inc. (NYSE:WMT), Target Corporation (NYSE:TGT), Costco Wholesale Corp. (NASDAQ:COST), Big Lots, Inc. (NYSE:BIG), Fred's, Inc. (NASDAQ:FRED) and Gordmans Stores, Inc. (NASDAQ:GMAN).
Stock Performance: Shares of DG are unchanged from the previous close of $35.07.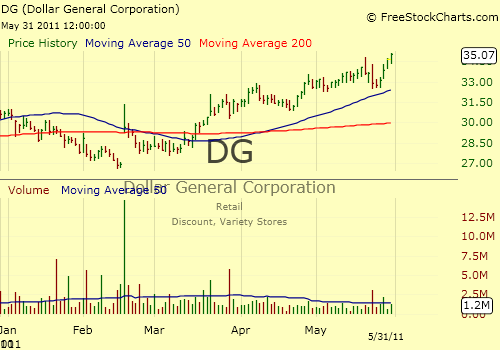 Don't Miss Wall St. Cheat Sheet's newest Feature Trades of the Month!
(Sources: YahooFinance, Xignite Financials)