Don't Taper Too Fast: Manufacturing Is Just Getting Back in the Game
The U.S. manufacturing sector continued to improve in August. Markit's Flash U.S. Manufacturing PMI rose 0.2 points to a five-month high of 53.9 in August, signalling that the sector is expanding at an even faster rate than before. The indexes for output, new orders, employment, output prices, and quantity of purchases all expanded at a faster rate in August than in July.
While the preliminary data are good, they're not great. At 53.9, the manufacturing sector is expanding but only at a modest pace. The sector has consistently flirted with contraction in the wake of the crisis and will need to experience a longer period of more robust growth in order to fully heal and once again become a driving force behind the broader U.S. economy. The index for new orders, a proxy for demand, increased a full percentage point to 56.5. The employment index increased 0.2 points to 53.2.
"Hopefully the faster growth of new orders seen during August will translate into increasingly strong production gains in coming months, and also boost hiring," Markit chief economist Chris Williamson said in a press release. "Job creation was the strongest for four months in August, but the sector is still barely contributing to non-farm payroll growth."
The July ADP National Employment Report showed that manufacturing payroll employment declined by 5,000 despite an increase in total private-sector payroll employment of 200,000. Total employment in the manufacturing sector has declined from about 17 million in 2000 to about 12 million in 2013. This is up from a low of around 11.5 million in 2009 but still reflects a much slower recovery than the overall labor market.
A separate index of manufacturing employment compiled by the Institute for Supply Management increased from 48.7 in June to 54.4 in July. The ISM gauge of manufacturing employment conditions has been generally positive over the past few years but unexpectedly turned negative at the end of the second quarter as manufacturing conditions in general floundered.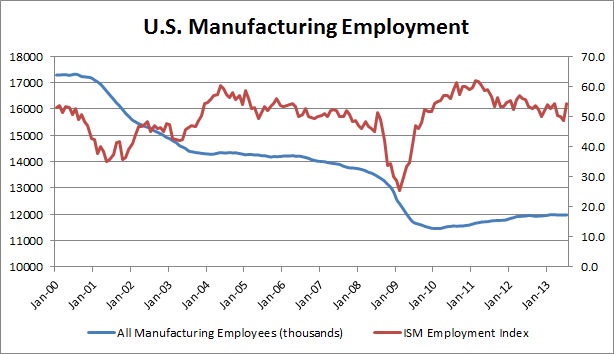 "Policymakers will be encouraged by the sustained recovery and signs of strengthening demand, which add further weight to the possibility of the Fed starting to taper its asset purchases as soon as September," Williamson said in the Markit release. "However, the Fed will also be wary of how fragile growth both at home and abroad is looking, and will therefore be keen to ensure policy is not tightened too much too fast."
The U.S. Federal Reserve on Wednesday released the minutes from its July policy meeting. All told, there were few surprises in the report. With economic conditions on the upswing, Fed officials have made no secret of the possibility that tapering could begin as early as this year, and comments from the minutes are consistent with this idea:
"Almost all participants confirmed that they were broadly comfortable with the characterization of the contingent outlook for asset purchases that was presented in the June postmeeting press conference and in the July monetary policy testimony. Under that outlook, if economic conditions improved broadly as expected, the Committee would moderate the pace of its securities purchases later this year."
Word on the street is that September 19 — the next Federal Open Market Committee two-day meeting — is when an announcement will be made. Dallas Fed President Richard Fisher and Chicago Fed President Charles Evans have both indicated that the decision could be made at this meeting, and a majority of economists recently polled by Reuters also point their fingers at the September date.
Don't Miss: Weak Weekly Numbers Aside, Jobless Trend Stays Positive.