DOT to Delta: Quit Bumping Passengers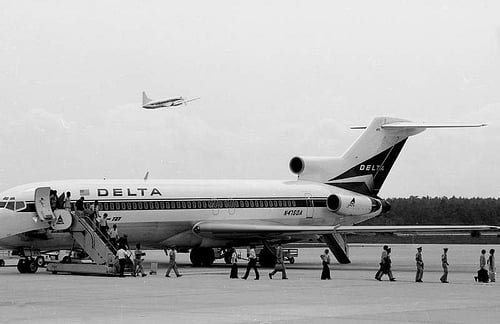 Delta Air Lines Inc. (NYSE:DAL) has received a hefty fine from the U.S. Department of Transportation, which accuses the airline of violating protocol when "bumping" passengers from oversold flights.
A statement released by the DOT says that Delta has been bumping passengers from oversold flights without providing compensation those passengers are entitled to. According to regulations, airlines must first ask all passengers on an oversold flight if they would be willing to take a different flight or receive cash compensation in return for giving up their seat.
If not enough people volunteer to give up their seats, and the airline has to bump passengers from a flight involuntarily, then the airline is required to explain to the "bumped" passengers what their rights are in a written statement. Those passengers are also frequently entitled to cash compensation of up to $1,300, depending on circumstances like how much the flight cost and the amount of time the passenger is delayed. Airlines are required to submit documentation to the DOT about how many passengers were bumped voluntarily and involuntarily on a quarterly basis.
"Airline passengers deserve to be treated fairly, especially if they are forced to miss a flight because an airline oversold seats," said U.S. Transportation Secretary Ray LaHood.  "Consumers have rights, and we will continue to take enforcement action when airlines violate our rules to protect the traveling public."
The DOT says that Delta has been bumping passengers without asking for volunteers and without explaining bumped passengers their rights. In addition, the DOT accuses Delta of classifying some passengers that were bumped involuntarily as being voluntary, resulting in incorrect filings with the DOT, a violation of passenger rights, and a violation of Delta's published customer commitment promising to comply with all DOT regulations.
The DOT has fined Delta $750,000 and ordered the airline to cease and desist from further violating federal regulations. In an interesting twist, the DOT has suggested that Delta can use up to $425,000 of the fine to purchase tablets and train employees to use them as a way to easily keep track of passenger bumping.
"Delta may use up to $425,000 of the penalty to buy electronic tablets to record consumers' decisions on whether they agreed to leave a flight and accept compensation offered by the airline, as well to train Delta personnel on using the tablets.  The data collected can be used to help correct any problems the airline may have in complying with the bumping rules," the DOT statement read.
The government organization also pointed out that this is Delta's second infringement of the rule in the last four years, having been fined $375,000 back in 2009 for similar violations. It remains to be seen if providing the airline with tablet computers to collect data will stop Delta from actively violating its passengers's rights in the future.
Follow Jacqueline on Twitter @Jacqui_WSCS
Don't Miss: Dream Interrupted: Another Boeing 787 Grounded.