Dow 30 Consumer Stock Buzz from This Week
The Walt Disney Company (NYSE:DIS): Current price $56.75
Even though Hulu is not officially up for sale, its corporate owners, including Disney , News Corp (NASDAQ:NWSA) and Comcast Corporation  (NASDAQ:CMCSA), are beginning to be contacted by would-be buyers, according to AllThingsD. One potential suitor is Ross Levinsohn, who attempted to acquire Hulu when he ran Yahoo in 2011. Sources say that Yahoo! (NASDAQ:YHOO) and Amazon.com (NASDAQ:AMZN) have also "kicked tires," but thus far no prospective buyer has made anything like a formal offer, says AllThingsD.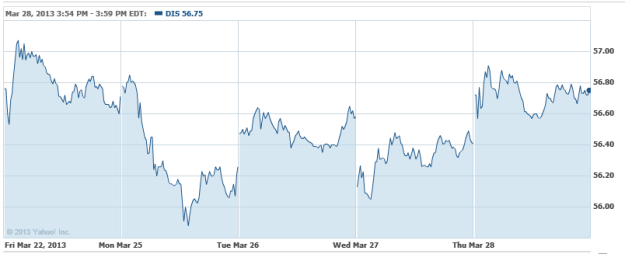 Don't Miss: Is Green Mountain Too Expensive?
The Coca-Cola Company (NYSE:KO): Current price $40.45
Beverage Digest reported that aggregate domestic sales of carbonated soft drinks slid by 1.2 percent by volume in 2012 to 9.17 billion cases, versus a decline of 1 percent year-over-year. The report also noted that if rapidly-growing energy drinks were excluded, 2012 soda volume would have dropped by 1.7 percent, said Reuters. The industry newsletter calculated that Coca-Cola and Dr Pepper Snapple Group (NYSE:DPS) each gained 0.1 percent of market share, while PepsiCo (NYSE:PEP) lost 0.4 percent in share.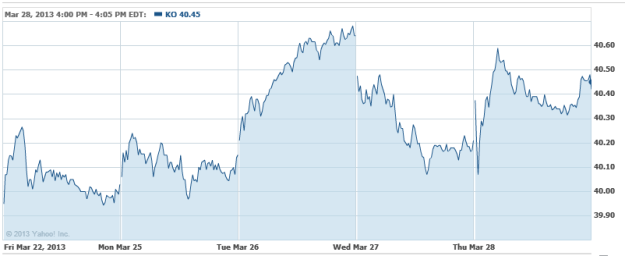 Don't Miss: Did Retail Sales Catch a Case of the Chills?
Wal-Mart Stores (NYSE:WMT): Current price $74.83
In a Tuesday night regulatory filing, Wal-Mart revealed that it is conducting an internal inquiry into, among other things, alleged violations of the Foreign Corrupt Practices Act and other alleged crimes or misconduct linked with certain foreign subsidiaries, including Wal-Mart de Mexico, as previously reported, as well as conducting a voluntary global review of the company's policies, practices and internal controls for FCPA compliance. The retailer stated that, "We expect to continue to incur costs, in addition to the $157M of costs incurred in fiscal 2013, in conducting our on-going review and investigations and in responding to requests for information or subpoenas seeking documents, testimony and other information in connection with the government investigations and in defending the existing and any additional shareholder lawsuits and any governmental proceedings that are instituted against us or any of our current or former officers…We also expect that there will be ongoing media and governmental interest, including additional news articles from media publications on these matters that could impact the perception of our role as a corporate citizen among certain audiences…While we believe that it is probable that we will incur a loss from these matters, given the on-going nature and complexity of the review, inquiries and investigations, we cannot reasonably estimate any loss or range of loss that may arise from these matters. Although we do not presently believe that these matters will have a material adverse effect on our business, given the inherent uncertainties in such situations, we can provide no assurance that these matters will not be material to our business in the future."
Wal-Mart wants to lure higher earning customers through its e-commerce business, in its ongoing rivalry with Amazon.com (NASDAQ:AMZN), said the Financial Times, quoting the Wal-Mart's CEO of e-commerce as saying, "We own what we own, and we're going after what we don't."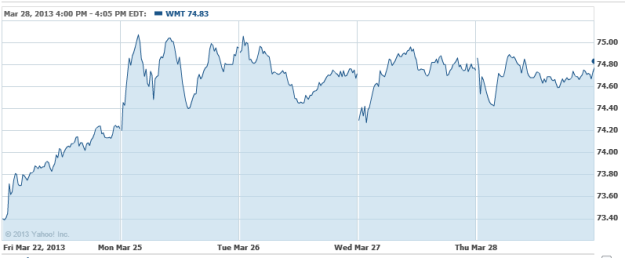 Don't Miss: Wal-Mart: Bribery Doesn't Pay.