Dow 30 Energy Stock Buzz This Week
Exxon Mobil Corporation (NYSE:XOM): Current price $90.02
Norway's Statoil (NYSE:STO) Might think of  Hess Corporation (NYSE:HES) as an alluring takeover target, according to The Wall Street Journal, which mentioned other potential buyers for the entire company, including Chevron Corporation (NYSE:CVX) and possibly Exxon Mobil.
The United States Department of Transportation has proposed a $1.7 million penalty against Exxon Mobil for its failing to address known flooding risks on one of its pipelines that broke in 2011, according to The Wall Street Journal. The ruptured pipeline allowed 1,500 barrels of crude to spill into Yellowstone River in Montana.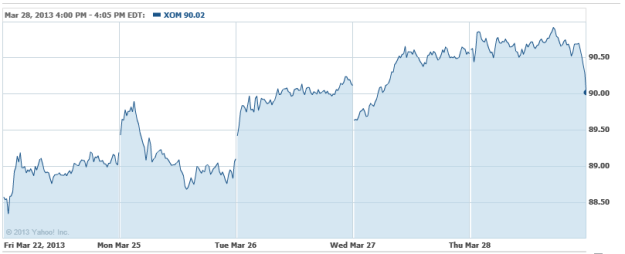 Chevron Corporation (NYSE:CVX): Current price $118.78
Chevron has made an oil discovery at the Coronado prospect in the deepwater United States Gulf of Mexico. The Walker Ridge Block 98 Well No. 1 met more than 400 feet of net pay when it was drilled to a depth of 31,866 feet. The well results are still being studied, and additional work is necessary to determine the extent of the resource. Chevron holds a 40 percent working interest in the prospect, and is the operator of the Coronado discovery well. Other owners include ConocoPhillips (NYSE:COP) with 35 percent, a subsidiary of Anadarko Petroleum Corporation (NYSE:APC) with 15 percent, and Venari Offshore with 10 percent.
Chevron, along with its co-venturers BP (NYSE:BP) and its Royal Dutch Shell (NYSE:RDSA), and ConocoPhillips (NYSE:COP) will go forward with a two-year appraisal program to examine the possibility of developing a third phase of the giant Clair field, located west of the Shetland Islands. The initial commitment involves a two-year program to drill five appraisal wells, but that could increase to between eight and twelve wells, depending on results from the first bores, which has begun recently. The initial investment in the appraisal program will exceed $500 million gross.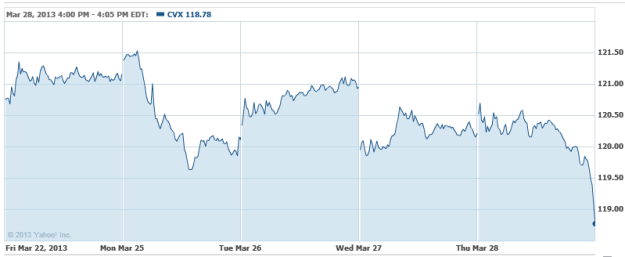 Investing Insights: Is SunPower a Risky Investment?