Dow 30 Financial Stock Buzz This Week
JPMorgan Chase & Co. (NYSE:JPM): Current price $47.50
Shares of Lions Gate Entertainment (NYSE:LGF) moved up in early trading after reports that CBS Corporation (NYSE:CBS) will acquire an interest in TVGN, formerly known as the TV Guide Network. CBS will pay more than $100 million for a 50 percent stake in the network from J.P.Morgan Chase's  One Equity Partners, said an inside source to Bloomberg. Meanwhile, The Hollywood Reporter said that CBS will pay "about" $100 million for the 50 percent stake, which is less than the $123 million that One Equity paid for its half and also less than half of the $250 million that Lionsgate paid for the entire network in early 2009.
Prosecutors are looking into whether J.P.Morgan withheld information in connection with Bernie Madoff, and the bank also faces a criminal inquiry as to whether it lied to investors and regulators concerning its multibillion dollar trading loss, according to The New York Times, which cited unnamed sources. In the meantime, the sources added that at least two J.P.Morgan board members are concerned about the bank's "mounting problems" as a minimum of eight federal agencies are investigating the Wall Street bank.
The Wall Street bank has appointed Greg Guyett as chief executive for the Greater China region and Rob Priestley as the same position at ASEAN, which represents two newly-created roles, says The Wall Street Journal.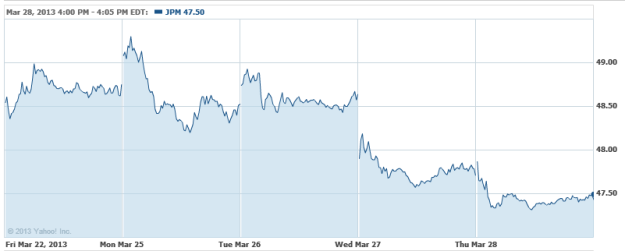 Bank of America Corporation (NYSE:BAC): Current price $12.20
Investor pressure appears to be prompting Bank of America to initiate a new compensation policy through which Chief Executive Brian Moynihan and a number of other top executives will be required to hold many shares for a minimum of a year after they retire, says Reuters, citing exchanges between the firm and the Securities and Exchange Commission.
The aggregate amount paid by the big banks to resolve claims from the financial crisis will probably surpass $100 billion, says The Wall Street Journal, which specified that Bank of America, Citigroup (NYSE:C), J.P.Morgan, and Wells Fargo & Co. (NYSE:WFC) have collectively paid $61.3 billion to settle claims over the past three years.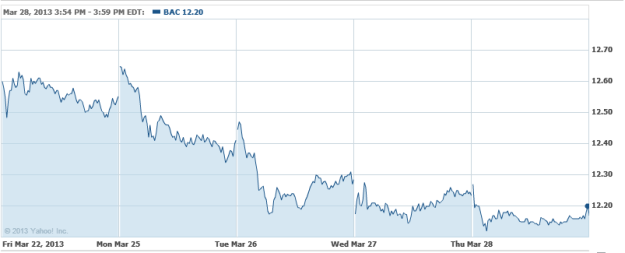 Don't Miss: The S&P 500 Says Hello to A New Record.