DOW All-Time High: How is This Time Different?
Time to dust off your rally caps, again. After more than five years of waiting, the Dow Jones Industrial Average has finally managed to break its all-time nominal high set in October 2007. The move looks good on paper, but the economy is quite different from the previous record.
On Tuesday, the blue-chip index opened above its previous record closing high of 14,164, and even broke through the all-time intra-day high of 14,198 in morning trading. It took the Dow almost 65 months to make the new highs, a sharper rise than the 81 months it took to recover the losses seen after the dot-com bust.
The move provides hope that the lost decade for stocks is finally over. Bulls claim the recovery is slowly improving, as corporate profits also reach new highs. The New York Times recently reported that corporate profits accounted for 14.2 percent of national income in the third-quarter of 2012, the largest share in over 60 years.

However, the Federal Reserve and its historic monetary easing programs continue to provide a floor to stand on for Mr. Market. Here's a look at how the economy is different today than it was in October 2007…
The Federal Reserve continues to play an ever-increasing role in the economy. Towards the end of last year, the market wizards announced not one, but two quantitative easing programs. These two new rounds of money printing have officially pushed the central bank's balance sheet beyond a record-breaking $3 trillion.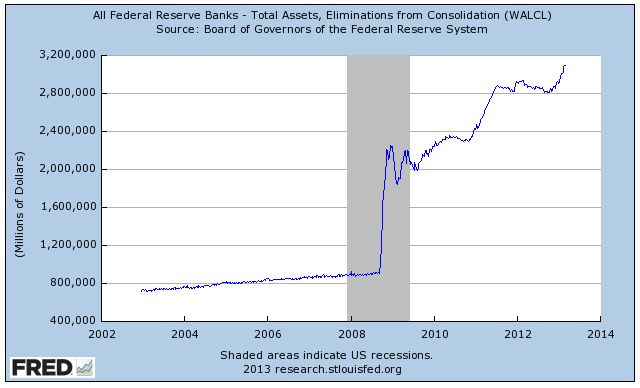 With the Federal Reserve increasing its long-term holdings around $85 billion per month, its balance sheet is well on its way to hitting $4 trillion near the end of this year. It is already estimated to be effectively absorbing about 90 percent of net new dollar-denominated fixed-income assets, and if QE3 and QE4 continue through 2014, its balance sheet could hit $5 trillion or more.
The Fed-induced low interest rates are making debt-loads more manageable, especially for the U.S. government. Unfortunately, it also delays any real pressure to reign in the debt, as bond vigilantes are nonexistent . As the chart below shows, the nation's total public debt as a percentage of gross domestic product is above 100 percent, compared to 65 percent in 2007.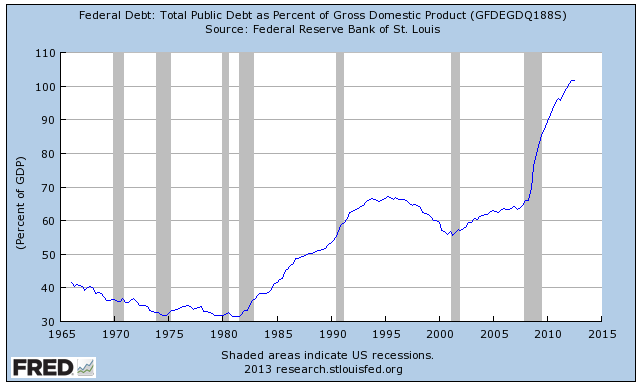 Last week, the Commerce Department said the U.S. economy grew only 0.1 percent in the fourth-quarter, an improvement from the prior estimate, but well below expectations.
Although corporate profits are at all-time highs, Main Street is still waiting for the recovery. As a percentage of national income, employees accounted for 61.7 percent, the lowest amount since 1966.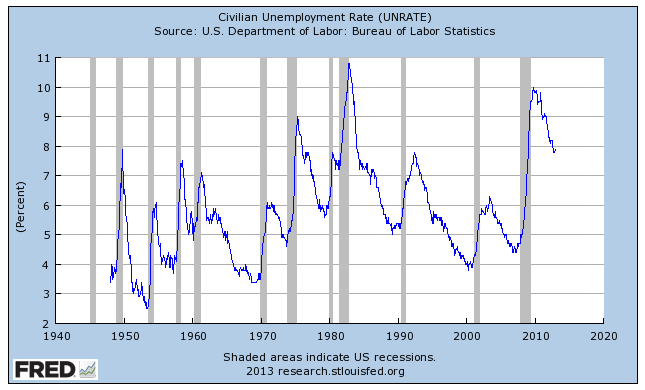 In January, the headline unemployment rate stood at 7.9 percent, compared to 4.7 percent in October 2007. Even more concerning, the labor force participation rate, which is the percentage of working-age persons in an economy who are employed or unemployed, continues to remain near 30-year lows.
In addition to higher unemployment rates and gas prices, consumers are feeling pain at the dinner table. According to the latest figures, a record 47.7 million Americans are on food-stamps, compared to 26.9 million in 2007. As the chart  below from Zero Hedge shows, this rising trend is quite strong.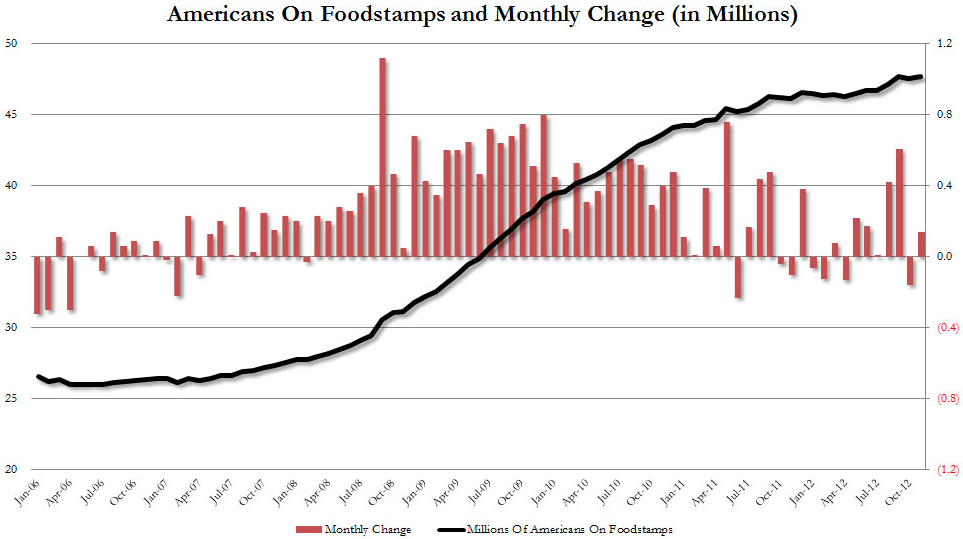 Don't Miss: Is Federal Reserve Intervention Here to Stay?