Dow Financial Stocks: Must Know Weekly News for Shareholders
Here's your Cheat Sheet to the week in Dow 30 financial stock news:
Are these stocks a buy or sell? Let us help you decide. Check out our Wall St. Cheat Sheet Stock Picker Newsletter now >>
Bank of America Corporation (NYSE:BAC): Current price $11.14
Several of the big banks are getting back to normal after more than four years after the financial crisis, but BofA and Citigroup (NYSE:C) are still having difficulties related to the past events. The two firms reported that substantial legal costs have undercut their fourth-quarter earnings, saying that the expenses originated in huge settlements involving their mortgage businesses.
After the last almost two years of pulling back from home lending, BofA might be readying for another go at the domestic mortgage business. Even now, the company is the fourth-largest mortgage lender in the United States and Chief Executive Brian Moynihan said at a December investor conference that his company intends to sell more mortgages through its 5,000-plus branches and is insistent upon "growing that business."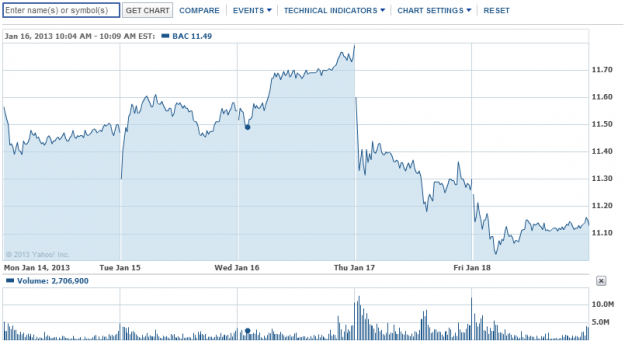 JPMorgan Chase & Co. (NYSE:JPM): Current price $46.46
The board of directors reduced Chief executive Jamie Dimon's compensation for 2012 to $11.5 million as the company posted a 53-percent jump in fourth-quarter profit to $5.69 billion due to earnings on mortgages. A bank spokesperson said that, "Mr. Dimon bears ultimate responsibility for the failures that led to the losses in CIO and has accepted responsibility."
The Federal Reserve Board issued two consent Cease and Desist Orders against JPMorgan, a registered bank holding company. The first order mandates that the firm take corrective action to continue ongoing enhancements to its risk-management program and also its finance and internal audit functions, especially in regard to its Chief Investment Office. This order is subsequent to the disclosure of significant losses in a large synthetic credit portfolio that was overseen by the CIO. The second order says that JPMC must take corrective action to modify its program to be in compliance with the Bank Secrecy Act as well as  other anti-money laundering requirements at the bank's various subsidiaries.
JPMorgan was the first bank named on a slide shown by President Richard Fisher of the Dallas Federal Reserve Bank as he told the National Press Club in Washington that, "We recommend that Too-Big-To-Fail financial institutions be restructured into multiple business entities." He added that United States authorities should reorganize the nation's largest banks so as to protect against the risk of such institutions, which would saddle ordinary Americans with the cost of a bailout the next time they get in in a jam.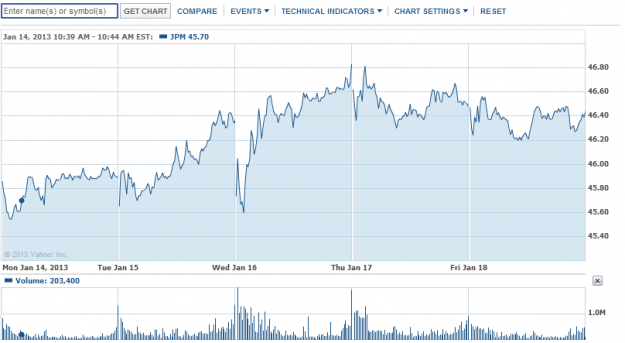 Are these stocks a buy or sell? Let us help you decide. Check out our Wall St. Cheat Sheet Stock Picker Newsletter now >>
Wells Fargo & Co. (NYSE:WFC): Current price $34.93
A company executive has revealed plans for Wells to start its own aircraft-leasing firm, in effect switching its concentration from lending to ownership in the $100 billion-a-year market for financing commercial jets. For many years, domestic  commercial banks have been active lenders to airlines, but Wells Fargo is the first in 20 years to search out ownership risk so as to boost returns from its balance sheet. This initiative by the bank is a year following the company losing out to three Japanese institutions who consented to pay $7.3 billion for the aircraft-leasing unit of Royal Bank of Scotland Group.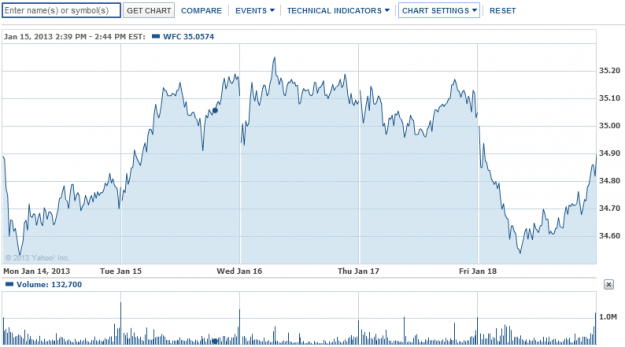 Investing Insights: Is AIG's Stock the Ultimate Comeback Story?