Dow Heads To 16,000 as Yellen Sails Through Senate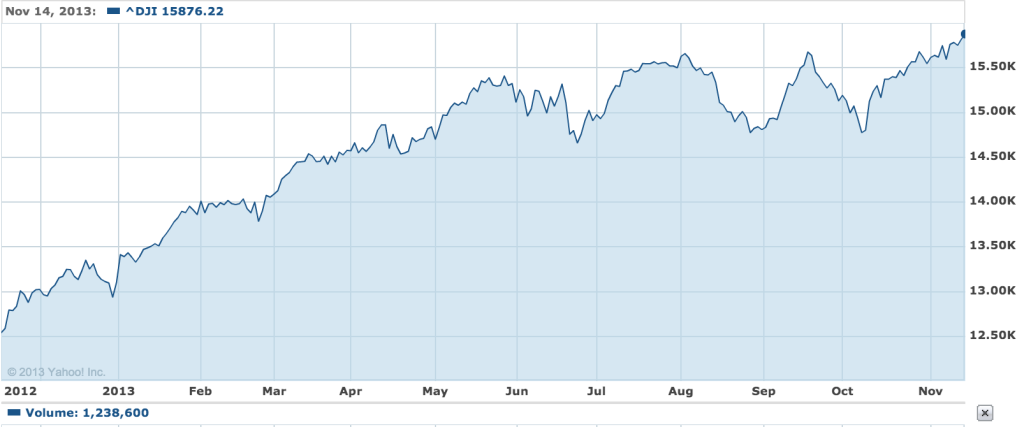 Propelled by Janet Yellen's testimony in front of the Senate Banking Committee Thursday, stocks continued to ascend. The Dow is approaching the record high 16,000 mark, and the S&P 500 is close to hitting 1,800, a record of its own.
Yellen's testimony is helping the stock market because of her reaction to the Federal Reserve's bond-buying program. The Fed has been purchasing bonds at the rate of $85 billion per month in order to keep interest rates low, and stimulate the economy. The easing of this program is known as tapering, and investors have been watching closely for signs of when it may begin.
"It's important not to remove support, especially when the recovery is fragile," CNNMoney reports Yellen said, "I believe it could be costly to withdraw accommodation or to fail to provide adequate accommodation." This and other quotes bolstered the belief that tapering is not in the cards until early 2014. Chris Gaffney, a senior market strategist at EverBank Wealth Management, described the tone of Yellen's testimony to Bloomberg, as "awfully dovish." Adding that she "did not give any indication that she's ready to pull back on the amount of bond-buying that the Fed's doing."
In a note to clients, lead equity strategist at JPMorgan, Thomas Lee, said this is the middle of a bull market, and it is logical to continue buying stocks. CNNMoney summarized his note, and provided a quote from Jim O'Sullivan, chief U.S. economist at High Frequency Economics. O'Sullivan said Yellen "is clearly emphasizing the need for policy to remain highly accommodative for some time."
This year has seen a number of historic highs and record-breaking weeks by the stock indices. When the Dow closed at another record high Monday, 15,783.10, Alan Skrainka told CNBC, "Corporate earnings have been strong, and the view is that the Fed is on hold for the foreseeable future, so the focus turns to the holiday season, and the strength of the U.S. consumer." Skrainka is the chief investment officer at Cornerstone Wealth Management.
Brenda Kelly, senior market strategist at the British-based IG Group, had a different view of the testimony and market reaction. "It's almost ironic that equity indices are close to five-year highs, and adding to those gains, following Janet Yellen's dovish testimony," Kelly told the Associated Press. "This tends to negate the incoming Fed Chair's categorical denials that a bubble may be forming in equities on the back of easy monetary policies."
Don't Miss: Warren Buffett's 10 Favorite Stocks.