Dow Industrial Stock Darlings Driving the 15,000 Milestone This Week
3M Company (NYSE:MMM): Current price $107.83
3M reports that two of its recent technologies have received prestigious honors from the Edison Awards, which is a program run by the non-profit, 501C (3) organization Edison Universe, dedicated to advancing future innovators. 3M LED Advanced Light won a Gold Edison Award in the Lighting category, while the 3M Molecular Detection System received a Silver Edison Award within the Diagnostic/Analytic Systems category. Nominees were judged by a panel of over 3,000 top business executives, among which included academics, previous winners, and leaders in the fields of design, product development, engineering, science and medicine. The evaluation criteria emphasized the themes of concept, value, delivery and impact.
3M Unitek has  announced its game-changing APC Flash-Free Adhesive Coated Appliance System, which will be on display from May 4-7, during the American Association of Orthodontists Annual 113th Session in the 3M Unitek booth #625. Thi new advanced tech eliminates the flash removal step in bonding, thus reducing variability and saving time for both orthodontists and patients. APC Flash-Free Adhesive lowers bonding time by up to 40 percent per bracket by eliminating the flash removal and clean-up step, permitting orthodontists to go directly from bracket placement to bracket cure. The adhesive shows excellent tack and workability prior to light-cure and provides extremely reliable bond strength, having a bond failure rate of less than two percent.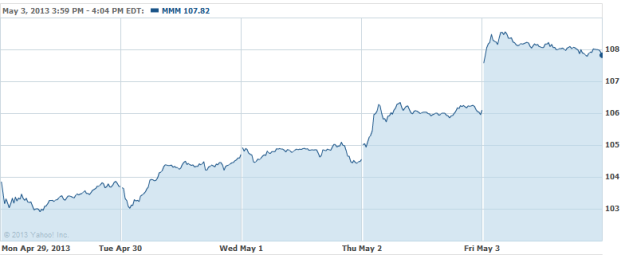 The Boeing Company (NYSE:BA): Current price $93.74
On Saturday, Chief Executive  Shinichiro Ito of ANA Holdings , the largest operator of Boeing 787s, said that the company intends to resume scheduled flights of the jet on June 1. Ito flew on the airline's initial test flight with the Boeing Commercial Airplanes President Ray Conner following completion of a repair to the battery system, and announced that ANA will not alter its plans for introducing the Dreamliner to its fleet. Beyond that, the airline will receive 10 additional planes in the year and will assign the next delivery to expanding its domestic routes.
Chairman, President and Chief Executive Officer Jim McNerney announced that the board has declared a regular quarterly dividend of 48.5 cents per share, payable June 7, to shareholders of record as of May 10.
Qatar Airways reports that it will receive compensation from Boeing for the grounding of its 787 Dreamliners, while it brings the aircraft back to service for the first time in three months. Chief Executive Akbar Al Baker commented "We will get compensation because we took airplanes we couldn't fly. Boeing understands that," before boarding the initial flight from Dubai to Doha, accompanied by reporters. Al Baker disagreed with the grounding decision back in January.
Boeing's sales force is beginning to sell airlines and jet leasing firms on the updated, bigger version of its 777 passenger jet, marking a crucial step towards gaining approval from Boeing's board to construct the plane, according to company officials on Wednesday. The company will add lightweight carbon-composite wings and new engines to the popular model, so as to take advantage of technologies that it created for its 787 Dreamliner, and also to reduce fuel burn by perhaps 20 percent. The board has okayed the move to offer customers details regarding the capabilities and pricing of the plane, which implies that the long-awaited redesign is closer to fruition.
Caterpillar (NYSE:CAT): Current price $86.98
Sany Heavy Industry, a competitor of caterpillar, reported on Saturday that its net profit fell by 44 percent in the first three months of 2013, along with a decline in sales. Profit fell to $253 million while  Sany's first-quarter sales posted a decrease of 24 percent in the same period. The firm supplied no reason for the declines, although China's economic growth was a lower-than-anticipated 7.7 percent in the first quarter of 2013, and demand for construction equipment has been impacted by government measures to slow the real estate market.Caterpillar has developed a Dynamic Gas Blending retrofit kit to be used on the Cat3512C  engine employed in well stimulation applications. Available for order in June 2013, this system will provide maximum substitution of diesel fuel with natural gas, during high pressure pumping operations, and is available in both Air To Air After Cooled and Separate Circuit After Cooled configurations for 2250 hp and 2500 hp at 1900rpm ratings.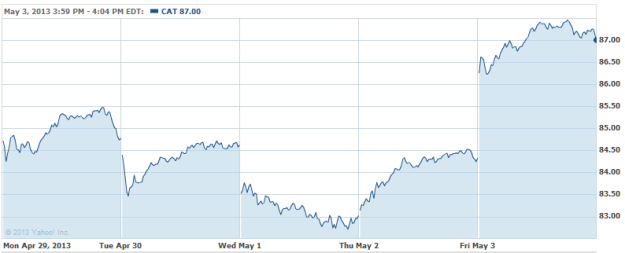 Don't Miss: Microsoft Tries to Dent Google and Apple with This Cheap Phone.
Alcoa (NYSE:AA): Current price $8.62
Vice President of Government Affairs and Trade Policy, Michelle O'Neill, was honored with a 2012 Presidential Distinguished Rank Award, the United States' highest civil service award, for outstanding achievement in public service. The award recognizes O'Neill's success as the Deputy Undersecretary for International Trade, which she held prior to joining Alcoa, in which she led over 2,300 Commerce Department employees globally. The annual awards are bestowed by the President to senior federal managers. Out of the 6,800 senior executive service employees in the Federal Government, 1 percent or fewer are recommended to the President by a panel of private citizens to receive the award every year.
On Wednesday, Alcoa reported that it will review some 460,000 metric tons of smelting capacity during the next 15 months for a possible curtailment, in order to maintain its competitiveness, since aluminum prices have slid over 33 percent since their peak back in 2011. This review will include facilities throughout the Alcoa system, and will concentrate upon higher-cost facilities and plants that pose long-term risk due to factors like energy costs or regulatory uncertainties. The potential curtailments could impact about 11 percent of Alcoa's worldwide smelting capacity.
The company is once again advising that it may have to make serious smelting capacity and output cutbacks, but now it is giving more specifics. Alcoa already said that it will review 460,000 metric tons of smelting capacity in the next 15 months for potential curtailment, to maintain its competitiveness (cut supply) as aluminum prices have slumped by more than 33 percent from their peak level in 2011. Beyond that, the company has already idled 13 percent, or 568,000 metric tons of smelting capacity and the possible curtailments comprise over 11 percent of its world smelting capacity. While reviewing over the next 15 months, Alcoa will take into consideration the factories that have long-term risk, like high energy costs or regulatory uncertainty.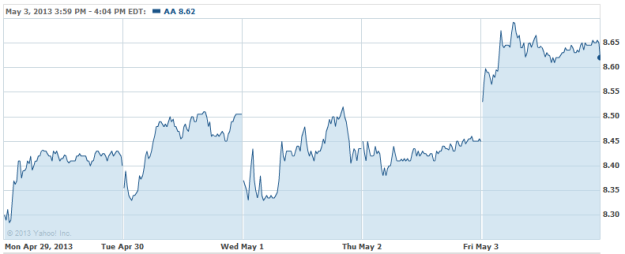 Don't Miss: Are Falling Factory Orders a Bad Economic Omen?
General Electric Company (NYSE:GE): Current price $22.58
GE has brought a lawsuit against the utility National Grid, seeking remuneration for its share of costs for the $1 billion-plus Superfund cleanup of contaminated sediment from the upper Hudson River. The suit was announced as crews started the fourth year of dredging PCBs from the river. General Electric released poly-chlorinated biphenyls, or PCBs, into the river decades ago, and is now dredging the river complying with a federal Superfund project that could to cost in excess of $1 billion. In a federal complaint, the firm says that in 1973, National Grid's predecessor, Niagara Mohawk, removed a dam near Fort Edward, causing over 1 million cubic yards of contaminated sediment to flow downstream.
On Thursday, GE announced that it will initiate the financing of commercial purchases of low-speed electric vehicles from the Polaris Industries (NYSE: PII) subsidiary Global Electric Motorcars. GE already supports the electric car industry in a number of ways, by pledging to buy 25,000 electric cars over five years, and by creating the "WattStation" tower for charging electric cars. The cars GE will finance presently are smaller than the better-known Chevy Volt or Nissan Leaf motorcars, are similar to golfcarts in size; they canmove at up to 25 mph, and are street-legal for use on many roads, according to Rich Smith at The Motley Fool.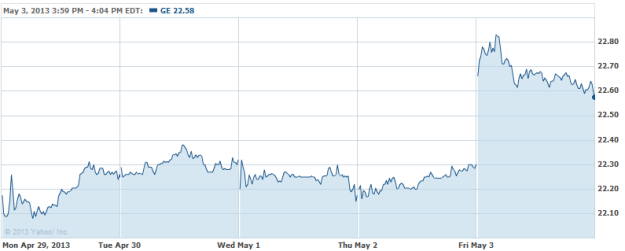 Investing Insights: Is BP Undervalued?

E.I. DuPont de Nemours & Company (NYSE:DD): Current price $53.94
DuPOnt reports that it is making impressive progress in the commercialization the Opteon YF (HFO-1234yf) refrigerant, and is making commercial shipments of the refrigerant from its facilities located in Japan and China. DuPont's Opteon YF is a next-generation refrigerant, which a group of leading automakers confirmed is safe and effective for use in automotive applications. The product boasts a 99.7-percent lower global warming potential than the refrigerant it replaced; the risk of vehicle fire associated with this refrigerant is thought very rare.
The Symposium on Biotechnology for Fuels and Chemicals has awarded DuPont with its 2013 Bioeconomy Leadership Award. This is the first year of this award, which is aimed at honoring an organization for demonstrated and sustained leadership excellence in forwarding the development of the biobased economy. DuPont was recognized for its pioneering work in the two strategic areas: of renewably-sourced materials, and fuels. The award will be bestowed at the annual SBFC conference, which unites industrial, academic and government experts to examine the most recent progress and breakthroughs in the research, development and deployment of biobased fuels and materials.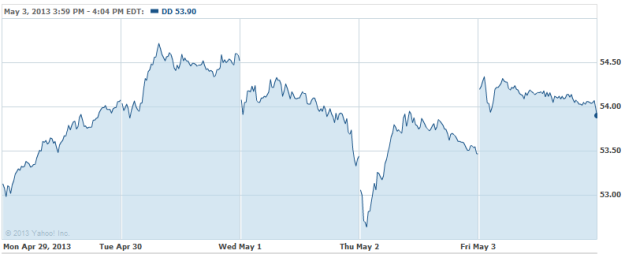 Don't Miss: Are Weak Economies and High Inventories Hurting Demand for Crude?

United Technologies Corp. (NYSE:UTX): Current price $93.11
To permit greater flexibility for customers to address varied mission profiles, United Technologies Corp's UTC Aerospace Systems has introduced a new line of Cloud Cap Tech HD TASE stabilized camera systems.  The updates contribute HD imaging and HD downlink capability to the TASE 300 and 400 systems. The systems are housed in a 7.5lb, 7 inch diameter sphere which renders them ideal for both manned and unmanned systems, and will be available for customer shipment in May (TASE400HD) with the additional products to come later (TASE 310HD, TASE350HD).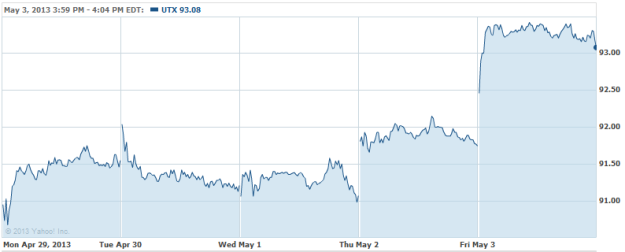 Don't Miss: Live Wrap: Will Facebook's First-Quarter Earnings Beat the Bears?