Dr Pepper Snapple Group Earnings: Sweetness in a Bottle
S&P 500 (NYSE:SPY) component Dr Pepper Snapple Group, Inc. (NYSE:DPS) reported net income above Wall Street's expectations for the first quarter. Dr Pepper Snapple Group, Inc. manufactures and distributes flavored carbonated soft drinks and non-carbonated beverages in North America.
Don't Miss: Wall St. Cheat Sheet's newest Feature Trades of the Month!
Dr Pepper Snapple Group Earnings Cheat Sheet for the First Quarter
Results: Net income for Dr Pepper Snapple Group, Inc. rose to $114 million (50 cents/share) vs. $89 million (35 cents/share) in the same quarter a year earlier. A rise of 28.1% from the year earlier quarter.
Revenue: Rose 6.7% to $1.33 billion YoY.
Actual vs. Wall St. Expectations: DPS beat the mean analyst estimate of 46 cents/share. Estimates ranged from 42 cents per share to 49 cents per share.
Quoting Management: DPS President and CEO Larry Young said, "We're off to a solid start in 2011. The foundational investments we've made to strengthen this business are paying off. Through rapid continuous improvement, or RCI, we're finding even more opportunities to free up resources to support growth. For the period, we increased distribution and availability, introduced exciting new products and expanded Sun Drop nationally. Despite a significant escalation in commodity and fuel costs, we continue to manage this business for the long term, balancing brand growth with pricing, mix and productivity. With solid plans in place and with continued wins in RCI, I am confident we'll deliver our commitments for the year."
Key Stats:
Last quarter's profit increase breaks a streak of two consecutive quarters of year-over-year profit decreases. In the fourth quarter of the last fiscal year, net income fell 1.8% while the figure dropped three quarters ago.
Competitors to Watch: The Coca-Cola Company (NYSE:KO), PepsiCo, Inc. (NYSE:PEP), Hansen Natural Corporation (NASDAQ:HANS), Coca-Cola Enterprises Inc. (NYSE:CCE), Cott Corporation (NYSE:COT), Jones Soda Co. (NYSE:USA) (NASDAQ:JSDA), National Beverage Corp. (NASDAQ:FIZZ), Celsius Holdings, Inc. (NASDAQ:CELH), Reed's, Inc. (NASDAQ:REED), and Heckmann Corporation (NYSE:HEK).
Today's Performance: Shares of DPS are trading at $40.15 as of April 27, 2011 at 9:51 AM ET, up 3.93% from the previous close.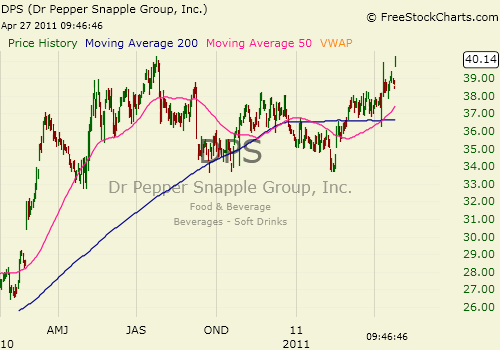 Don't Miss Wall St. Cheat Sheet's newest Feature Trades of the Month!