DTE Energy Wins Best of the Best and 2 More Stocks at 52-Week Highs
Acorda Therapeutics (NASDAQ:ACOR): Closing price $35.50
Acorda announced that a proof-of-concept trial found dalfampridine extended release tablets, marketed as Ampyra (dalfampridine) Extended Release Tablets, 10 mg, improved walking for persons suffering from post-stroke deficits. Post-stroke deficits refer to chronic neurological deficits, like impaired walking, moto,r and sensory function, and manual dexterity that persist in people who have had a stroke. Shares closed up 12.63 percent on Monday at $35.50, and have been traded between $21.04 and $35.75.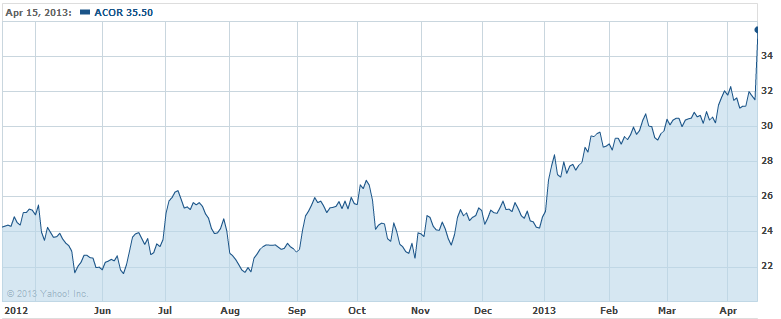 DTE Energy Company (NYSE:DTE): Closing price $70.39
DTE Energy has been recognized by Professional Woman's Magazine as a 2013 Best of the Best company for its endeavors in promoting and valuing diversity in the workplace. Hundreds of Fortune 500 companies in a variety of industries including the energy sector, higher education, and healthcare were looked over for the award, as the magazine evaluated the firm' outreach and accessibility to the African-American, Hispanic, Latino, female, and veteran populations. Beyond that, it also looked at how well companies pursued diverse applicants and certified disadvantaged business owners. Shares closed up 0.06 percent on Monday at $70.39, and have been traded in a 52-week range of $54.25 to $70.86.

GlaxoSmithKline (NYSE:GSK): Closing price $49.23
Shares of  GlaxoSmithKline and its partner Theravance popped on a down Monday after the FDA posted its review of the firms' combination inhaler drug to treat lung disease. Glaxo and Theravance asked the FDA to okay their experimental inhaler drug, Breo Ellipta, to treat complications of chronic lung disease. The ailment can cause a number of breathing difficulties, among which include chronic bronchitis and emphysema. The FDA posted its review of Breo Ellipta Monday morning prior to a public meeting on Wednesday to review the drug. FDA scientists said that the ingredient vilanterol clearly improved lung function when compared with a placebo. Shares closed up 1.57 percent on the day, having been traded in a 52-week range of $41.68 to $50.15.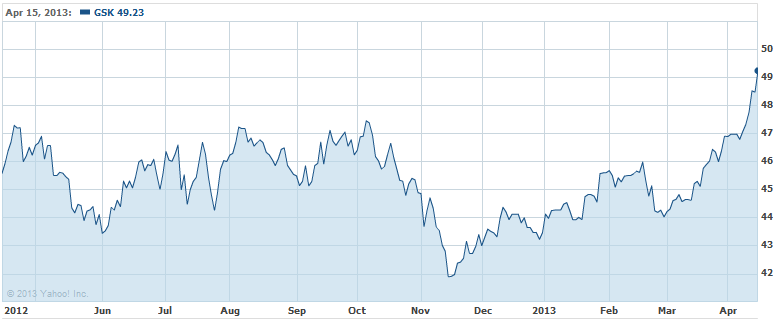 Don't Miss: Is Fracking Really Depleting Our Water Supplies?