Duke Energy Corporation Earnings: Beating Wall Street
S&P 500 (NYSE:SPY) component Duke Energy Corporation (NYSE:DUK) reported net income above Wall Street's expectations for the first quarter. Duke Energy Corporation offers electric power and gas distribution operations and other energy services in North and South America.
Don't Miss: Wall St. Cheat Sheet's newest Feature Trades of the Month!
Duke Energy Earnings Cheat Sheet for the First Quarter
Results: Net income for Duke Energy Corporation rose to $511 million (38 cents/share) vs. $445 million (34 cents/share) in the same quarter a year earlier. A rise of 14.8% from the year earlier quarter.
Revenue: Rose 1.9% to $3.66 billion YoY.
Actual vs. Wall St. Expectations: DUK reported adjusted net income of of 39 cents/share. By that measure, the company beat the mean estimate of 35 cents/share. Estimates ranged from 34 cents per share to 36 cents per share.
Quoting Management: "We built a solid foundation in the first quarter for another successful year," said James E. Rogers, chairman, president and chief executive officer. "A continued focus on operational excellence as we execute our business plan will help us achieve our 2011 earnings guidance range of $1.35 to $1.40 per share. Additionally, we made initial regulatory filings related to the merger with Progress Energy and continue to target a closing date by the end of 2011," he said.
Competitors to Watch: American Electric Power Co., Inc. (NYSE:AEP), Progress Energy, Inc. (NYSE:PGN), DPL Inc. (NYSE:DPL), The Southern Company (NYSE:SO), PPL Corporation (NYSE:PPL), SCANA Corporation (NYSE:SCG), TECO Energy, Inc. (NYSE:TE), FirstEnergy Corp. (NYSE:FE), ALLETE, Inc. (NYSE:ALE), and Dominion Resources, Inc. (NYSE:D)
Stock Performance: Shares of DUK are up 0.8% from a previous close of $18.80.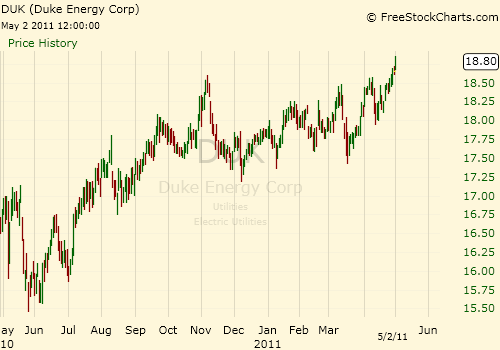 Don't Miss Wall St. Cheat Sheet's newest Feature Trades of the Month!