Dunkin' Adopts Starbucks' Style to Attract More Customers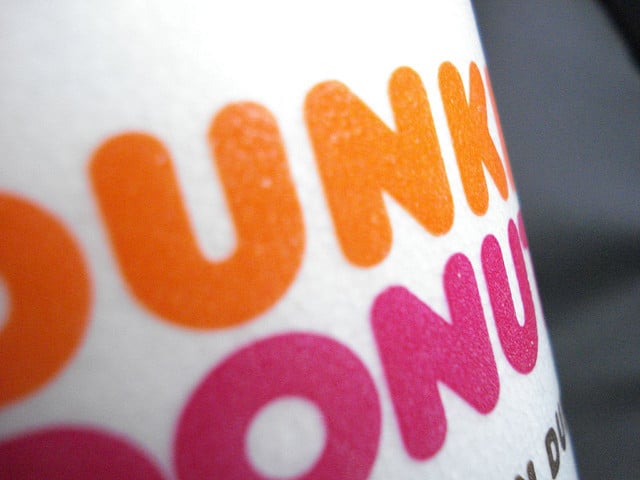 Dunkin' Donuts (NASDAQ:DNKN) is in the process of overhauling the look and vibe of its existing and upcoming stores, and they are beginning to have an uncanny resemblance to Starbucks (NASDAQ:SBUX) outlets.
Despite the coffee and baked goods chain's previous tongue-in-cheek marketing campaigns poking fun at Starbucks, which included a T-shirt that read "Friends Don't Let Friends Drink Starbucks," Dunkin' Donuts is embracing the Starbucks model of creating pleasant environments in hopes that it will encourage its customers to linger longer, rather than rush in and rush out. Founded in the 1950s, Dunkin' Donut's brand has been built on the idea of being a fast, quick, and delicious option for busy people, emphasized in its slogan, "America runs on Dunkin'."
According to Dunkin' Donuts CEO Nigel Travis, the company had to change its tune because sales were suffering. "Life finished at 11 a.m. We've attacked that mindset with the new store designs because Dunkin' has been losing out on the afternoon consumer," Travis said. "We haven't always been conducive to that relaxed environment. So soft seating, the ability to watch TV, to listen to appropriate music and just do things slightly slower than you would in the morning is what we think we've been missing."
According to a 2012 survey from Nation's Restaurant News and WD Partners, coffee lovers agree. The donut chain was tied for the second-lowest atmosphere score among beverage and snack shops, coming in below Starbucks, Krispy Kreme Doughnuts Inc. (NYSE:KKD), Caribou Coffee, and Tim Hortons Inc. (NYSE:THI). Starbucks received the highest score.
Nonetheless, the Dunkin' Donut franchise has opened about 90 new stores this year and plans to have a total of 600 new stores across the U.S. by year's end. Franchisees are embracing the company's new look and can choose from four options, which cost between $175,000 and $250,000 for a remodel and between $400,000 and $700,000 to build new. "A lot of owners are volunteering to remodel their stores and more than 1,000 shops are putting in $13,000 digital menu boards," Travis said.
Don't Miss: Wal-Mart Still Encounters India's "No Entry" Signs.