Dunkin' Donuts Wants to Get Down with the Germans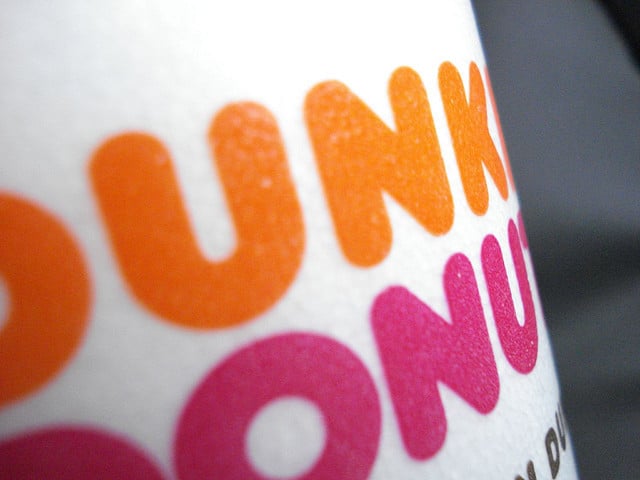 Dunkin' Brands Group Inc. (NASDAQ:DNKN) is hoping that as Europe recovers from its recession, its consumers will be increasingly interested in their favorite Dunkin' indulgences again, and the brand is especially gunning for Germany.
Bloomberg reports that Dunkin' Donuts initially came to Deutschland in 1999 and now has 35 shops there. But as Europe bounces back from the recession, the doughnut company is hoping to capitalize on the region's biggest economy even more, expecting to increase its shop number to 150 within five years' time. That makes for a lot of caffeinated Germans, but Dunkin' is confident that the region's inhabitants, especially those in places like Hanover, Stuttgart, Munich, and Nuremberg, will be eager to jump aboard the coffee and Boston Kreme doughnut chain once their disposable income rises.
While Dunkin' Donuts is based in Canton, Massachusetts, it has certainly expanded from there. It first began caffeinating East Coasters but recently made headlines after the company announced its readiness to move West and even drop its doughnut focus as it begins to center its business on the beverage industry.
The business now also offers more than 70 types of doughnuts in 31 countries, with 1o,500 Dunkin' Donuts restaurants worldwide, according to its website. Although it has been cautious about breaking ground in Europe due to the state of its economy, the company is now ready to reconsider the U.K. and France as it builds its presence in Germany.
Dunkin' explains that it'll first concentrate on Germany's financial center, opening around 5o outlets there, and then push out. Like Germany, France has a strong coffee and bakery market, and U.K. opportunities are burgeoning, too. Other than in Germany, Dunkin' Donuts is only present in two other countries in the European Union: Spain and Bulgaria.
What has helped facilitate the company's success in these European markets is its ability to cater to different consumer palates — while the bretzel is popular in some countries, Dunkin's plain bagels are more appealing in others. When company CEO Nigel Travis explained why France could be next on Dunkin's list, he even went so far to say: "France is an interesting country and it's certainly on our list to look at. Pain au chocolat may look pretty good in Dunkin' Donuts," he told Bloomberg.
And Dunkin' Brand Group Inc.'s Baskin-Robbins division is also coming along for the German road trip. The chain will sell its ice cream cakes in the region next year, hopefully starting in Berlin, Hamburg, Stuttgart, and Munich. The company currently has 100 stores in the U.K. and two in Spain.
Don't Miss: Here's What Republicans Think About Defunding Obamacare.