DuPont Declares 435th Consecutive Dividend and 2 More Dow Movers to Watch
 E.I. DuPont de Nemours and Company (NYSE:DD): Current price $52.23
On Tuesday, DuPont announced that its board has approved a 5-percent increase in the firm's quarterly cash dividend, raising the second-quarter dividend from 43 to 45 cents per share for common stock, payable June 12, to stockholders of record as of May 15. This represents the 435th consecutive quarterly dividend since DuPont's first dividend in the fourth quarter of 1904. Executive Vice President and Chief Financial Officer Nicholas C. Fanandakis remarked that "increasing the dividend reflects DuPont's confidence in our global growth strategy, strong balance sheet and solid track record of market-driven science. We will continue to deliver shareholder value through ongoing innovation, productivity and new business opportunities."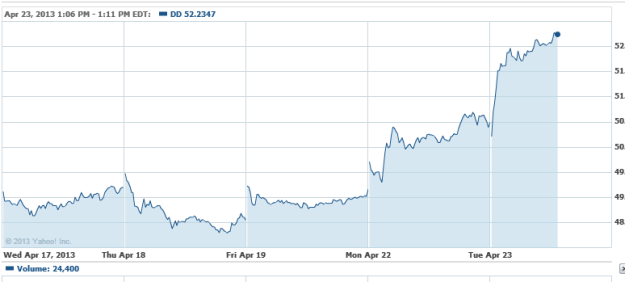 Caterpillar (NYSE:CAT): Current price $84.47
The company posted a profit per share of $1.31 in the first quarter, which  is down year-over-year from the 2012 profit per share of $2.37.  First-quarter 2013 sales and revenues came to $13.210 billion, marking a decline from $15.981 billion in the same period. Profit stood at $880 million in the first quarter of 2013, compared year-over-year with $1.586 billion in 2012.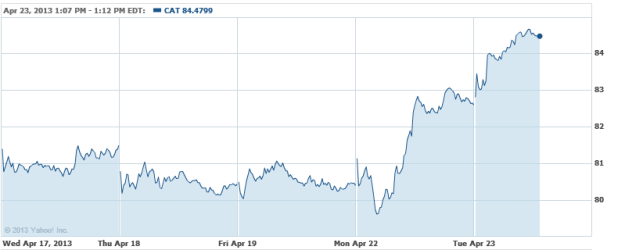 Procter & Gamble (NYSE:PG): Current price $81.94
P&G's award-winning African-American consumer campaign My Black is Beautiful brought its message to the public via film, with the debut of the Imagine a Future documentary, in association with Tribeca Film Institute on April 21 in New York City. In partnership with UNCF and BLACK GIRLS ROCK!, the campaign hosted an intimate screening of the Imagine a Future documentary for prominent film industry movers and distinguished guests, offering them a first peek at the film that explores beauty and self-esteem matters which challenge black women and girls.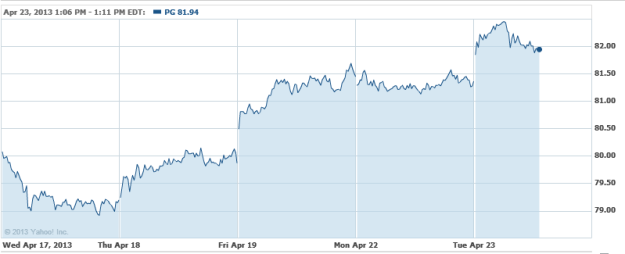 Don't Miss: The Real Estate Market Receives Another Boost.