DuPont Launches Seed Facility in Ukraine and 2 Other Dow Movers To Watch
E.I. DuPont de Nemours and Company (NYSE:DD): Current price $55.05
On Tuesday, DuPont announced that it has opened a seeds plant in Ukraine that is designed to aid farmers in boosting their harvests using more productive seeds. The facility cost more than $40 million, and is located in the central region of Poltava, which is the key area for agriculture in the former Soviet Union's "Bread Basket." The installation will produce seeds of maize, sunflower and rape, according to a statement. Ukraine was the number-four maize exporter in 2011/12 in the world, and plans to harvest a record 27 to 28 million tons in 2013, but needs higher-quality seeds so as to increase yields.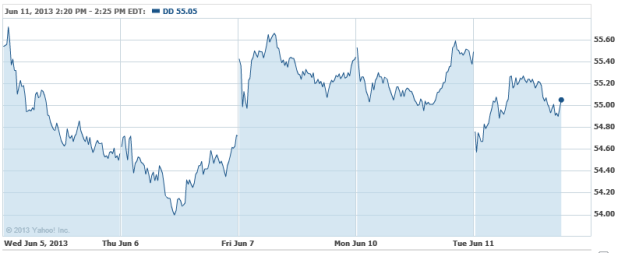 General Electric Company (NYSE:GE): Current price $23.57
GE said Tuesday at the RAPID 2013 Conference that it is starting two global additive manufacturing quests that invite entrepreneurs, firms and  institutions to offer their solutions to these challenges: a 3D Printing Design Quest for technologies employed in healthcare, and a 3D Printing Production Quest for an aircraft engine bracket. Senior Vice President and Chief Technology Officer, GE Global Research Center Mark Little said that , "GE is committed to leading the next  manufacturing revolution through innovative hardware, material and process advancements. This revolution depends on collaboration with external innovators and partners. These Quests will help us to convene and engage this community in meaningful ways and ultimately build an additive manufacturing ecosystem that scales the industry to new heights."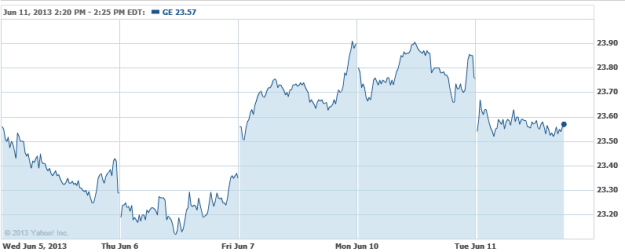 Cisco Systems (NASDAQ:CSCO): Current price $24.17
At The Cable Show 2013, going on Monday through Wednesday of this week in Washington D.C., Espial and Cisco will demonstrate Espial's advanced multiscreen companion application, integrated with Cisco's Videoscape 9800 Series Multiscreen Gateway. Exhibited on an Apple iPad tablet, the demonstration at the Cisco booth 1819 will emphasize an advanced set of multiscreen use cases, among which include metadata sharing, tuner streaming, channel changing, and DVR streaming.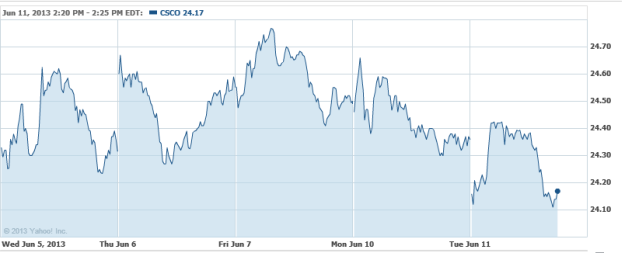 Don't Miss: There Are Ample New Jobs, But Where Are the New Hires?