DuPont Opens New Innovation Center In Iowa and 2 Other Dow Movers to Watch
E.I. DuPont de Nemours and Company (NYSE:DD): Current price $52.60
On Tuesday, DuPont announced that it is broadening its research into new products for agriculture, food, and alternative energy, as it inaugurates a new innovation center in Iowa. DuPont Chief Executive Ellen Kullman said in a statement that the center joins a chain of worldwide locations, and will target the use of its global network of scientific research to more rapidly come to market with "local solutions." DuPont posted sales of $34.8 billion in 2012, and is racing with competitors to introduce new products for food and energy needs, as the planet's population skyrockets.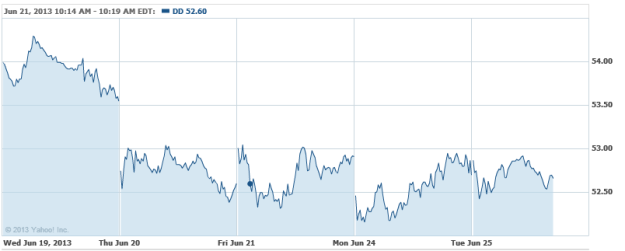 Microsoft Corporation (NASDAQ:MSFT): Current price $33.55
Microsoft is starting a venture capital arm, Microsoft Ventures, to supply funding, advice and computing, and software services to startups. The newly-created unit will aid fledgling business in getting access to funding, services like cloud computing, and also an accelerator program lasting between three and six months, according to a company blog. Microsoft said that the new program will help bring cohesion to the effort, "By unifying our various efforts, we will give entrepreneurs a single point of entry to engage with Microsoft. Startups have enough to worry about. We want to make access to us as intuitive and friction-free as possible."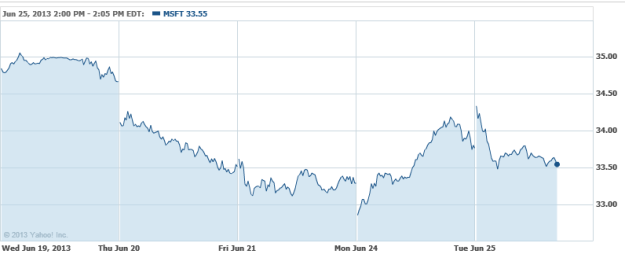 Cisco Systems (NASDAQ:CSCO): Current price $24.24
Cisco has won an appeals court decision that turns aside a $63.8-million patent-infringement judgment and allows it a new chance to contend that it did not infringe a Texas company's patent for wireless-transmission tech. The United States Court of Appeals for the Federal Circuit said in an opinion posted on its website Tuesday, that the trial judge in the case had given jurors erroneous instructions on the legal standard for infringement of Commil USA's patent. The patent in question was issued in 2002, and covers a way to maintain network connections via a series of base stations, so that users of laptop computers, mobile phones or devices using a wireless-transmission feature like Bluetooth does not lose the signal while walking through buildings. For its part, Commil contended that the infringement occurred through the use of Cisco's Wi-Fi access points and controllers.

Don't Miss: Out of Stock Online While Best Buys Are On the Shelf!