DuPont Partners With Yingli In Solar Models and 2 More Dow Movers to Watch
E.I. DuPont de Nemours and Company (NYSE:DD): Current price $55.27
Through a $100-million arrangement, DuPont will work with Yingli Energy Company Limited, which is a wholly owned subsidiary of Yingli Green Energy Holding Company Limited, to make photovoltaic materials for solar model production. The deal marks an expansion of a supply agreement between the firms that was announced in February of last year. Through the terms, Yingli China will buy materials including DuPont Solamet photovoltaic metallization paste, that will help to raise the power output of solar cells, and also DuPont Tedlar polyvinyl fluoride film which can protect solar panels in the harshest environmental conditions.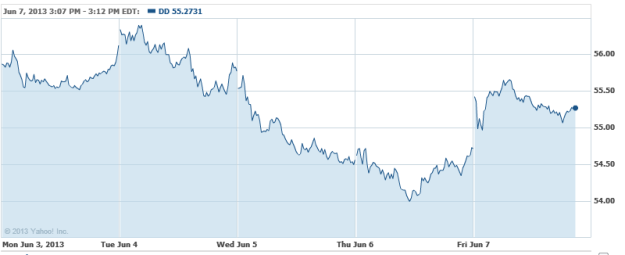 Microsoft Corporation (NASDAQ:MSFT): Current price $35.54
In an announcement that should be a relief to both gamers and video game retailers like GameStop, Microsoft's upcoming Xbox One gaming console will indeed be able to play used games. The revelation means that video games discs users purchase will not be limited to only one Xbox One device, and also that players can share or trade in the games they have bought for other used games, just as they have been doing. Microsoft Corp. reported in a blog post on Thursday that it will not charge a fee to retailers, publishers or gamers for transferring their old games.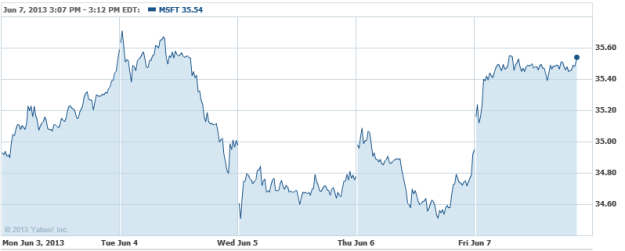 International Business Machines Corporation (NYSE: IBM): Current price $205.79
On Friday, IBM said that it has been named a leader in the IDC MarketScape Worldwide Enterprise Mobility Consulting 2013 Vendor Analysis report, which cites the company's recently announced Customer Experience Lab and IBM MobileFirst initiative, as examples of its Enterprise Mobility Consulting leadership. The IBM Customer Experience Lab allows C-Suite executives direct access to IBM Research scientists and business consultants who are dedicated to driving innovative mobile solutions to help transform the manner through which customers experience their firms' products, services, and brands.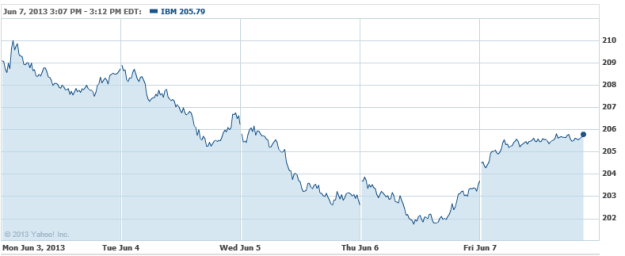 Investing Insights: Has Hewlett-Packard Reversed Its Trend?