Dynex Capital Earnings: Net Income Up Eighty-Five Percent
Dynex Capital Inc. (NASDAQ:DX) reported its results for the first quarter. Dynex Capital, Inc. is a real estate investment trust, which invests in mortgage loans and securities on a leveraged basis.
Don't Miss: Wall St. Cheat Sheet's newest Feature Trades of the Month!
Dynex Capital Earnings Cheat Sheet for the First Quarter
Results: Net income for Dynex Capital Inc. rose to $10.3 million (31 cents/share) vs. $5.5 million (30 cents/share) in the same quarter a year earlier. A rise of 85.7% from the year earlier quarter.
Revenue: Net interest income was $12.7 million.
Quoting Management: Thomas Akin, Chairman and Chief Executive Officer, commented, "During the quarter we continued our efforts to enhance scalability as we raised approximately $95 million in new equity capital. Through quarter end we deployed approximately $80 million of the equity proceeds principally in hybrid Agency ARMs, most of which settled at the end of the quarter. We have continued to invest the proceeds during the second quarter as we move toward our leverage target of six times shareholders' equity based on the current composition of the investment portfolio and current borrowing conditions. Our book value declined modestly during the quarter from declines in prices due to wider spreads on non-Agency CMBS and certain Agency MBS. Spreads on Agency MBS have tightened since the end of the first quarter which has increased book value. Our focus remains on constructing a high quality short duration investment portfolio with modest leverage. We added substantial interest rate swaps during the quarter as a hedge to potentially rising interest rates. We believe our investment portfolio and balance sheet are well positioned whether interest rates remain low or begin to rise."
Key Stats:
The company has now seen net income rise in three-straight quarters. In the fourth quarter of the last fiscal year, net income rose more than twofold and in the third quarter of the last fiscal year, the figure rose 17%.
Competitors to Watch: PennyMac Mortgage Investment Trust (NYSE:PMT), Redwood Trust, Inc. (NYSE:RWT), Anworth Mortgage Asset Corp. (NYSE:ANH), New York Mortgage Trust, Inc. (NASDAQ:NYMT), ARMOUR Residential REIT, Inc. (AMEX:ARR), American Capital Agency Corp. (NASDAQ:AGNC), Bimini Capital Managment, Inc. (BMNM), ECC Capital Corporation (ECRO), MFA Financial, Inc. (NYSE:MFA), and Origen Financial, Inc. (ORGN)
Stock Performance: Shares of DX are down 0.4% from the previous closing price of $9.78.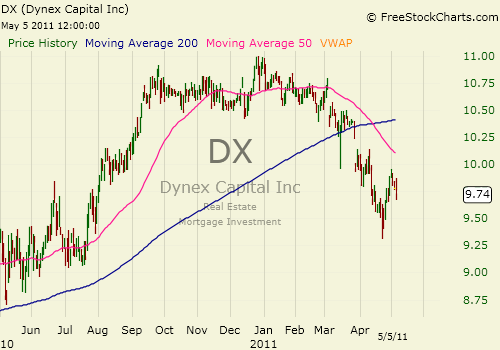 Don't Miss Wall St. Cheat Sheet's newest Feature Trades of the Month!