Earnings Drive Ford Higher, Microsoft Surprises: Market Recap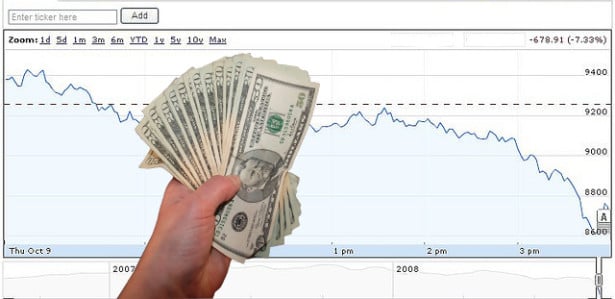 U.S. stocks rose during trading on Thursday as continued signs that the economy's growth has slowed fueled investor confidence that the Federal Reserve will continue with its $85 billion a month bond purchases for the foreseeable future. U.S. manufacturing didn't increase as much as had been expected and more people filed for unemployment benefits last week than analysts had predicted. Investors are also closely watching third-quarter earnings reports.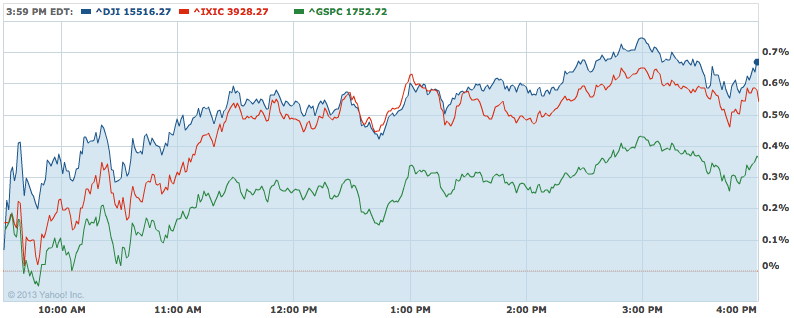 Gold: +0.92% to $1,346.30 per ounce Oil: +0.20% to $97.05 per barrel U.S. 10-Year: +1.49 to 2.522
Incumbents Beware: Polls Show Heavy Voter Disapproval: Polls from before and after the government shutdown and default scare have shown that Americans are angry at Congress. A new national research poll from USA TODAY and Princeton has illuminated just how their anger may manifest in the coming years elections — with many desirous of a nearly complete congressional replacement.
Jobless Claims: Still Inflation from Government Shenanigans: First-time claims for unemployment benefits have edged up since September, thanks in part to three consecutive weeks of technical problems in California, which have caused delays in application processing. The partial government shutdown also inflated first-time application numbers because a number of government contractors were laid off temporarily, although furloughed federal workers were not included in the claims data, according to the Department of Labor.
U.S. Trade Deficit Edges Higher on Weak Demand: Data released Thursday morning showed the U.S. trade deficit increased slightly in August. In a belated statement — initially due out October 8 but delayed thanks to the partial government shutdown — the U.S. Bureau of Economic Analysis reported that the trade gap increased from -$38.6 billion in July to -$38.8 billion in August.

Here's your cheat sheet to today's top stocks stories:
Twitter (NYSE:TWTR) is moving closer to its highly anticipated IPO on the New York Stock Exchange. People familiar with the company's plans tell the Wall Street Journal that Twitter could set a price range for its IPO within the next day or two, laying to rest weeks of speculation on the issue. Twitter is reportedly set to raise $1 billion with its IPO, with a November 6 target target date, according to the New York Post.

Sirius XM (NASDAQ:SIRI) was all smiles on Thursday after reporting record revenue of $962 million in its third quarter, up 11 percent from last year's revenue of $867 million. Sirius XM's earnings per fully diluted share for 2013 held steady at $0.01 — the same as in the third quarter of 2012. Sirius's net income came down, ringing in at $62 million compared to last year's third quarter net income of $75 million.
JPMorgan Chase & Co. (NYSE: JPM) is facing further legal woes. The New York Times reports that federal authorities are looking at JPMorgan's involvement in the Bernie Madoff case. Speaking with people familiar with the matter, the publication says that ahead of a potential criminal investigation, JPMorgan CEO Jamie Dimon and prosecutors have discussed a "deferred prosecution agreement" and that federal authorities have not ruled out a more severe sentencing.

Microsoft Corp. (NASDAQ:MSFT) closed the regular session on Thursday down 0.12 percent at $33.72 per share, but climbed as much as 6.8 percent in post-market trading after reporting strong fiscal first-quarter financial results after the closing bell. Revenue grew 16 percent on the year to $18.5 billion, beating the mean analyst estimate of $17.79 billion.
Ford Motor Co. (NYSE:F) woke up to face the trading day on Thursday and kicked the door down on its way in. Shares climbed a little over 1 percent in trading Thursday following Ford's third-quarter earnings report, and shares hit a fresh 52-week high of $18.02 by the time most people were settling into their chairs at the office. Ford's revenue climbed 12.2 percent on the year to $36 billion, beating the mean analyst estimate of $33.98 billion.
Amazon's (NASDAQ:AMZN) TV set-top box won't likely be ready for the holiday shopping season, according to a report from the Verge as the company prepares to release third-quarter earnings this evening. The Verge said that a set-top box, which would be a perfect way for Amazon to push its Prime Instant Video streaming service, is still in the works for the company, but sources have suggested to the publication that the device is being delayed yet again.
Follow Jacqueline on Twitter @Jacqui_WSCS
Don't Miss: Microsoft Exec on Free iWork Apps: Apple Is Playing 'Catch Up'.