Earnings Recap: IBM and Ebay Disappoint on Revenue, Select Comfort Plunges 23%
Shares of American Express (NYSE:AXP) gained 1.4 percent on Wednesday and continued to trade higher in late afternoon hours. American Express reported quarterly earnings of $1.25 per share share on revenue of $8.30 billion, beating expectations calling for $1.22 per share on $8.19 billion. "Despite an uncertain environment, we generated a healthy increase in revenues and stronger Card Member spending across all regions this quarter," said Kenneth I. Chenault, chairman and chief executive officer, American Express. "Spending on our global network rose 7 percent (9 percent adjusted for currency translations) and Card Member loans continued the modest growth rates we have been seeing for the past several quarters." American Express shares are up more than 30 percent this year.

IBM (NYSE:IBM) shares dropped almost 6 percent in late afternoon trading. IBM announced better-than-expected quarterly earnings of $3.99. However, IBM's revenue of $23.72 billion was below expectations calling for $24.75 billion. "In the third quarter we continued to expand operating margins and increased earnings per share, but fell short on revenue. Where we had identified high growth opportunities and pursued them aggressively – cloud, mobile, business analytics, and security – we continued to show strong growth. This underscores our strategy to continuously transform the company to high value," said Ginni Rometty, IBM CEO. IBM shares are down about 10 percent this year.

Shares of Select Comfort (NASDAQ:SCSS) plunged 23 percent after reporting disappointing quarterly results. Earnings per share of 36 cents for Select Comfort fell well below estimates of 43 cents per share. Select Comfort also missed revenue expectations. "The consumer responded positively to our product innovations and exclusive retail experience as evidenced by market-share gains along with favorable operational and customer-focused metrics," said Shelly Ibach, president and CEO, Select Comfort. "However, our execution was muted by a progressively more challenged macro-economic environment, resulting in performance below expectations." Select Comfort shares are down more than 30 percent this year.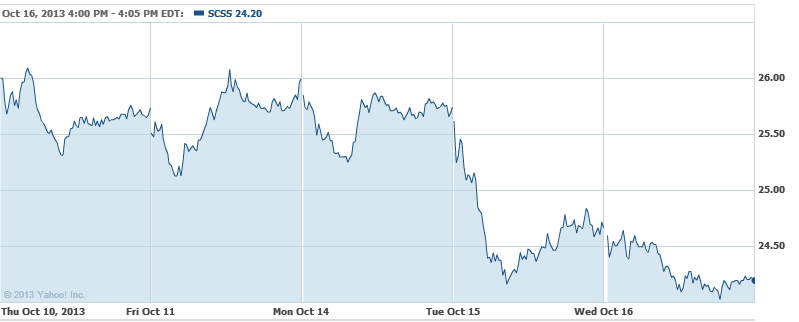 Ebay (NASDAQ:EBAY) shares sank more than 5 percent in late afternoon trading. Ebay announced earnings of 64 cents per share, topping estimates by one cent. However, revenue of $3.89 billion was below Wall Street's estimate of $3.91 billion. "We delivered strong third quarter results, with mobile driving a significant portion of our new user growth and continuing to transform how consumers shop and pay around the world," said Ebay CEO John Donahoe. "Our scale and experience, the strength of our global commerce platforms, our technology assets and our mobile commerce capabilities strongly position us to be a leader in the commerce revolution under way. In the past 12 months we have enabled $200 billion of commerce volume, a 20 percent increase in a fairly lackluster macro environment. That growth demonstrates the strength of our core businesses and our power as a partner, not a competitor, to merchants, brands and retailers." Ebay shares are flat on the year.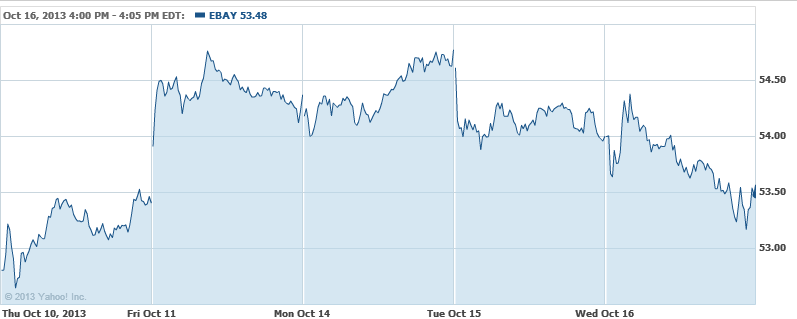 Don't Miss: David Einhorn: Apple Is Still a Winner
Follow Eric on Twitter @Mr_Eric_WSCS