eBay's Fee Changes and 2 Stocks Riding 52-Week Highs
Clovis Oncology (NASDAQ:CLVS): Closing price $30.92
On Stockpickr, Jim Cramer remarked that "From a technical perspective, CLVS is trending higher here and breaking out above some near-term overhead resistance at $29.53 with above-average volume. This move has pushed shares of CLVS into new 52-week-high and all-time-high territory, which is bullish technical price action." Clovis is a biopharmaceutical firm concentrating on acquiring, developing and commercializing innovative anti-cancer agents in the United States, Europe and additional international markets. Shares closed up 3.10 percent on Wednesday at $30.92, and have been traded in a 52-week range of $11.19 to $31.18.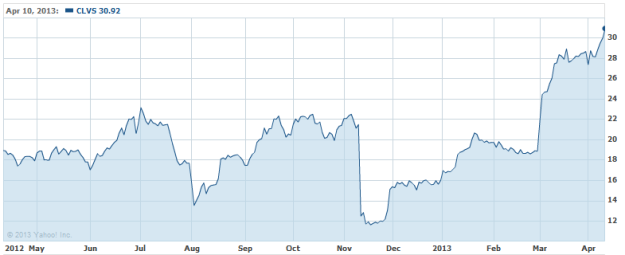 The Walt Disney Company (NYSE:DIS): Closing price $60.11
AT&T (NYSE:T) has enhanced its U-verse services by adding three Disney products: WATCH Disney Channel, WATCH Disney XD and WATCH Disney Junior. Viewers can access these through applications created for Apple's (NASDAQ:AAPL) iPhone and iPad, Kindle Fire devices or via the Internet by logging on to WATCHDisneyChannel.com, WATCHDisneyXD.com and WATCHDisneyJunior.com. Shares closed up 1.64 percent on Wednesday at $60.11, having been traded between $41.24 and $60.14.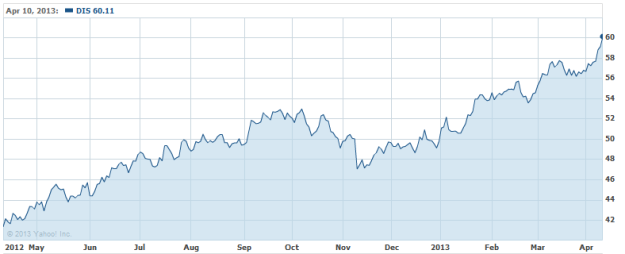 eBay (NASDAQ:EBAY): Closing price $57.30
Scot Wingo, who leads ChannelAdvisor, which is a software maker that assists third-party retailers in selling on websites such as Amazon and eBay, believes that eBay is making a good move by lowering and simplifying its fees. EBay revealed the changes, which mostly take place in April, on March 19th. Analysts have differing opinions on how much competition this represents for Amazon.com (AMZN), at a time when some third-party sellers on Amazon are becoming increasingly unhappy with fee increases. Shares closed up 2.19 percent on the day at $57.30, and have been traded in a 52-week range of 35.43 to $57.58.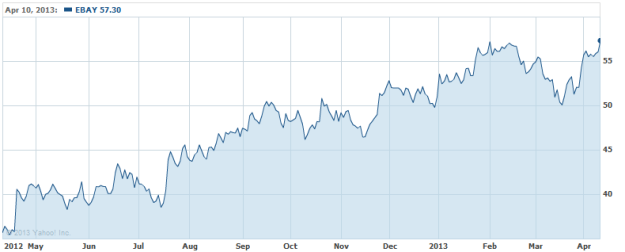 Don't Miss: Student Debt Weighs on Graduates Seeking Homeownership.