Economic Confidence on Post-Bin-Laden Binge
The collective American ego is walking a bit taller since news of the May 2nd raid on Osama Bin Laden's compound in Pakistan that left the world's most wanted man shot dead by a team of U.S. Navy Seals. According to last week's Gallup Poll, which compiled data on economic confidence for the week ending May 22nd, America's Economic Confidence Index has sustained a ten point upswing since the date of the raid.
Gallup's economic confidence index, which consists of two measures, "one involving Americans' views about whether the U.S. economy is "getting better" or "getting worse" and the second involving Americans' ratings of current economic conditions as "excellent," "good," "only fair," or "poor," has seen positive growth in both dimensions since the date of Bin Laden's death.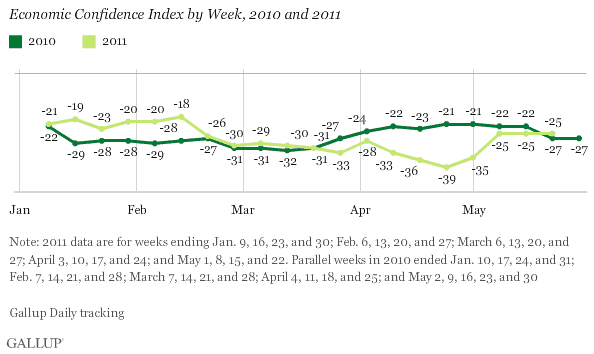 The Economic Confidence Index had fallen to a six month low of -39 in late April due to rising food (NYSE:RJA) and fuel (NYSE:UGA) costs, but has since rebounded moderately to -25, and consistently maintained this level since May 2nd. Though news of Bin-Laden's death has certainly raised the spirits of the American consumer, details of the polling offer a reality check, suggesting that the majority of the population is still frustrated with the stagnant economic recovery. 42% of Americans polled in May rated the state of the economy as "poor," and only 37% of polled respondents indicated that the economy was "getting better."