Economic Confidence Remains Low But Spending Sputters Higher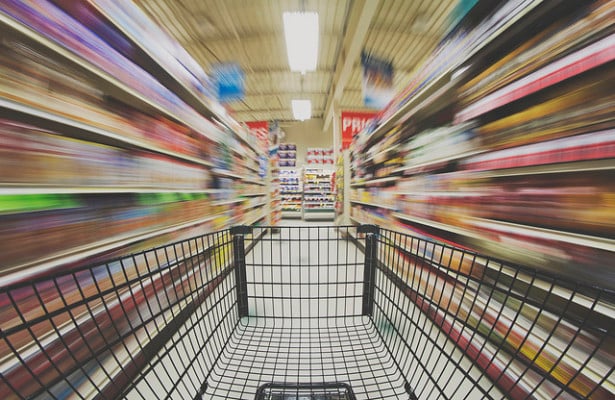 "Americans' standard of living perceptions have declined and economic confidence remains deeply negative," said Gallup's Brendan Moore in the research firm's monthly analysis of Americans' self-reported daily spending. Gallup's data showed that by the end of October, its U.S. Standard of Living Index sunk to a 10-month low, dropping 8 points that month and providing strong evidence that the American consumer was rattled by the political crisis in Washington.
Similarly, the Economic Confidence Index remained deeply negative by the end of October despite posting improvements in the weeks after the partial government shutdown ended.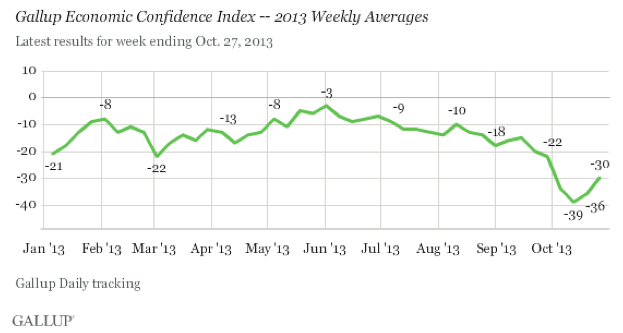 In October, excluding household bills and major purchases like a car or home, Americans spent an average of $88 per day, a modest increase from September's $84 but still below August's $95.
"The August increase in Gallup's spending measure is a positive sign for the economy after Gallup and government spending estimates suggested little spending growth in July. A key to keeping up the positive momentum is whether Americans pull back in September or continue to spend at higher levels," wrote Gallup's Jeffrey M. Jones in August's spending report. But consumers did pull back in September, and while October's reading was marginally higher, the increase was far too small to indicate any significant improvement in economic conditions.
In 2008 — the first year in which Gallup conducted the survey — each monthly reading exceeded $80, and for four months, spending jumped above $100. Then, between 2009 and November 2012, the month averages fell consistently below $80. That period became known as the "new normal" in spending, and it was linked to the sluggish economy and high unemployment rate.
From late 2012 through August, Gallup's consumer spending data have been generally been trending upward, a sign that consumers were moving beyond the "new normal" period of more limited spending. However, in September, momentum was lost.
September's dip was largely due to the looming possibility of a government shutdown. "To the extent Americans' decreased spending is tied to concerns about the larger economy, driven to a large degree by the run-up to, and commencement of, a federal government shutdown, it suggests the effects of the government's budget stalemate go well beyond the temporary halting of non-essential government services," said the September reading of discretionary spending.
October's slight rebound is likely due to the fact that the debt ceiling crisis and budget stalemate were temporarily dealt with partway through the month.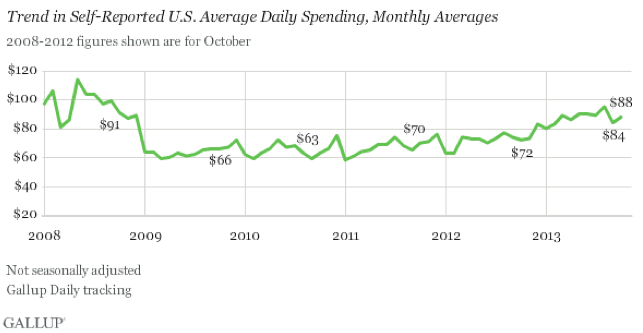 Still, "the plunge in economic confidence that took place during the government shutdown could negatively affect spending levels in the near future," according to Moore.
Before the political dysfunction in Washington, D.C., reached its climax, the economic situation was not exactly rosy: Job creation was stumbling and government retail spending figures were weaker than earlier in the year. But the 16-day government shutdown, uncertainty over government spending, and the possibility of a debt default further depressed many economic indicators.
As long as the labor market improves only modestly and income growth remains relatively stagnant, as it has since the end of the recession in June 2009, many American consumers will continue to be in a difficult position — and if American consumers are in difficult position, so is the economy. Consumer spending accounts for approximately 70 percent of gross domestic product, and because government and business spending have remained weak, the economy is depending even more on household spending to fuel growth.
"As job reports continue to fall short of expectations and uncertainty about the debt limit and the federal budget persist, it is possible that consumer spending will decline in the coming months," wrote Gallup's Moore in the report. "Americans' soured optimism has yet to affect spending, but lag effects are still a concern."
Retail sales were shockingly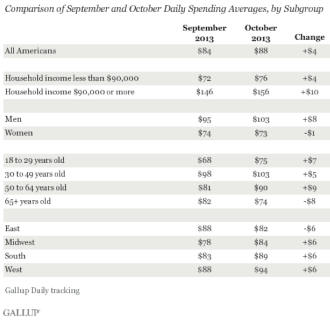 low in September at the headline level, dipping 0.1 percent, but the core reading showed a more positive picture of consumer spending. Excluding last month's 2.2 percent drop in automobile sales, the largest decline since October 2012, retail sales rose 0.4 percent.
However, the 0.1 percent decline in the headline retail sales figure was the weakest reading recorded since March. Yet given that sales dipped largely because of the decline in the automobile segment, September's drop is expected to be temporary.
Of course, the fallout from the government shutdown will then have to be considered, and, as Moore noted, the plunge in economic confidence could translate into consumer spending.It is important to remember that American consumers were already facing difficulties before the political crisis began.
"A lot of people are going to say the government shutdown reversed the trend in consumer spending, when in fact when you look back on July, August, September, you already see a slowing or at least a topping out in spending patterns," ITG Investment Research chief economist Steve Blitz said after last week's retail data was released by the Department of Commerce. "There's no question … that the slowdown hurt — the second half of September was a lot slower than first half [but] you will see it in full force when the October numbers come out" on November 20.
Notably, both lower-income and higher-income earnings increased their outlays last month, with Americans earning more than $90,000 spending an additional $10 and those earning less than $90,000 spending an additional $4.
Follow Meghan on Twitter @MFoley_WSCS
Don't Miss: Chris Christie to the GOP: It's the Election, Stupid.