Economic Indicators: Shipping Stuck in a Downtrend
At Wall St. Cheat Sheet we watch logistics indicators like a hawk. These important economic activities are a great way for investors to take the pulse of the economy at large.
Although we also analyze shipping by air and land, today we are focusing on cargo shipped across the seas. This is important because most international bulk shipments for Basic Materials (NYSE:XLB) are made by sea freight.
The general economic indicator for sea shipping is the Baltic Dry Index. The five year chart below shows how large an affect the economic crisis had on the global economy: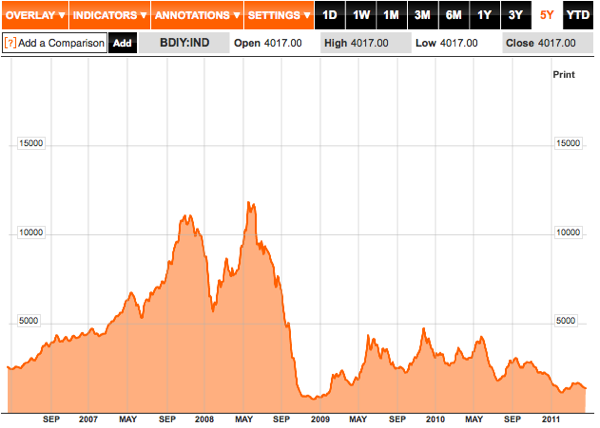 Now for the recent headlines regarding the most important public companies in ocean transportation:
1) DryShips Inc. (NASDAQ:DRYS) announced the signing, by its majority-owned subsidiary Ocean Rig UDW Inc. ("Ocean Rig"), of the $800 million syndicated secured term loan facility to partially finance the construction costs of the Ocean Rig Corcovado and Olympia. This facility has a 5 year term and 12 year repayment profile, and bears interest at LIBOR plus a margin. The Lead Arrangers are Nordea Bank and ABN AMRO. Also participating in this financing is Garanti-Instituttet for Eksportkreditt (GIEK), Norway's export credit agency, DVB Bank, Deutsche Bank and National Bank of Greece.
2) Navios Maritime Partners (NYSE:NMM) announced that its Board of Directors has declared a cash distribution of $0.43 per unit for the quarter ended March 31, 2011. This distribution represents an annualized distribution of $1.72 per unit. The cash distribution will be payable on May 11, 2011 to unit holders of record as of May 5, 2011. The company announces earnings on Wednesday April 20.
3) Box Ships (TEU) is a newly formed container shipping company created by parent Paragon Shipping Inc. (NYSE:PRGN). The stock had its IPO on April 14. Like many shipping companies, the company is based in Athens, Greece, and specializes in transporting drybulk cargoes in intermodal containers that can be transferred from ships to rail or trucks. Add this one to your watch list.