Economic Optimism Spills Over Into Retail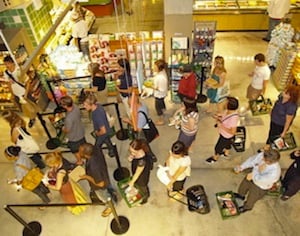 Last week, the U.S. Department of Commerce reported higher-than-expected retail sales figures and stoked optimism for more accelerated growth in the near future. The data even prompted Barclays to upwardly revise its predictions for second-quarter gross domestic product from a 1.1 percent annual rate to a 1.8 percent annual rate.
The figures released from both the International Council of Shopping Centers and Goldman Sachs Retail Chain Store Sales Index and Redbook for the past week's retail sales also supported that optimism, as consumer spending accounts for approximately 70 percent of all economic activity in the United States.
Expanding slightly from last week's week-over-week drop of 2.7 percent, the ICSC-Goldman Store Sales Index edged up 0.3 percent in the past week. On a year-over-year basis, the index grew by 2.5 percent, a modest increase from last week's 2.2 percent gain. For the month, the ICSC is predicting growth between 3 percent and 3.5 percent.
"During the past week, department, electronics and drug store sales posted notable improvement, but there were pockets of notable weakness too among dollar stores and wholesale clubs," said ICSC Chief Economist Michael Niemira in the press release seen by Dow Jones Newswires. "Most other segments were a tad stronger or a tad weaker than the year-over-year pace of the prior week."
The Redbook reading — in which figures for the first week of the month are compared with the average for the entire previous month — also continued to report steadily increases rates of year-on-year same-store sales growth. According to the industry group, sales rose to 2.9 percent from last week's reading of 2.8 percent. Redbook's month-to-month comparison with May exhibited a slight 0.4 percent decline.
Over the next several months, job market performance will be an important consideration when analyzing consumer spending. "On a fundamental basis, labor market conditions will be the key factor for the consumer, and evidence concerning job growth therefore will remain the paramount economic variable for some time," MFR chief economist Josh Shapiro told The Christian Science Monitor.
Don't Miss: United: Can it Soar Back After a Forgettable 2012?