EIA: Mild Temperatures Cool Down Natural Gas Demand
This week's Energy Information Agency natural gas storage report is out and the continuity in the natural gas industry progresses. Storage is up to 3,006 billion cubic feet — a gain of 65 Bcf from last week. However, stocks were 252 Bcf less than at this time last year, though still above the 5-year average of 2,963 Bcf. With the industry's total 3,006 Bcf they are still within the 5-year historical range, according to the EIA.
Here's a look at the 5-year chart for natural gas storage.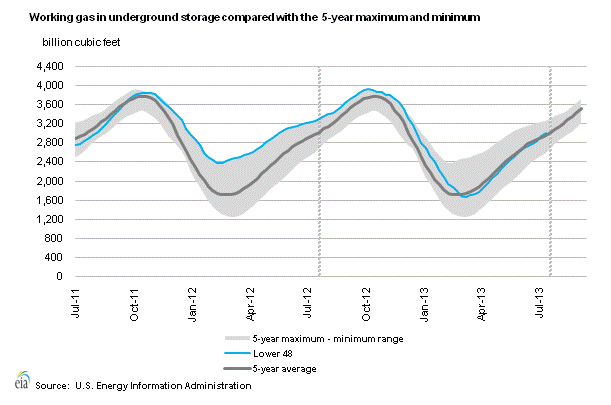 Natural gas prices continue to trend downwards for the year despite being up consistently since 2012.  The increase in prices has contributed to a demand slump, according to the EIA, as the Henry Hub spot price is up 63 percent from last year to $3.92 per MMBtu. Cooler temperatures so far this year has also worked to curb demand as well, the EIA notes.
Here's a look at the trend in prices.