Einhorn Sells Out His Microsoft Position and 2 Other Hot Stocks to Watch
Microsoft Corp. (NASDAQ:MSFT): Current price $31.88
The influential hedge fund manager David Einhorn reported his second quarter portfolio Friday morning. For that quarter, he was a net seller, selling out a number of positions. Notably, Einhorn sold out his holdings in Microsoft Corp. with sale prices between $28.56 and $35.67 at an estimated average price of $32.76. Nevertheless, Microsoft shares are up 0.22 percent at $31.86 just before noon Eastern Time on Friday.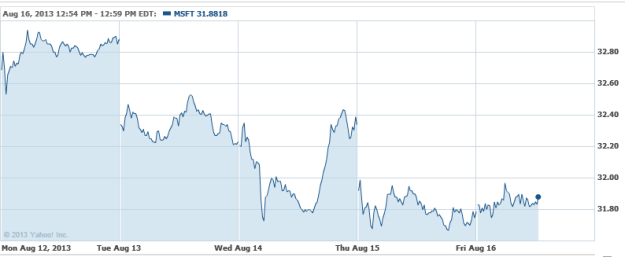 Bank of America Corp. (NYSE:BAC): Current price $14.41
The Federal Reserve has released a final rule that will require 70 financial firms to pay an aggregate of $440 million for the cost of its expanded supervision. The Fed's Board of Governors voted 7 to 0 for the rule that outlines "which companies are charged, estimates the applicable expenses, determines each company's assessment fee, and bills for and collects the assessment fees," said a statement released Friday in Washington.
The central bank will levy the assessment every year and intends in late October to advise the companies of their fees for last year. The assessment rule was proposed in April and the amount to be collected is the same as under the original proposal. The assessments would apply to firms with over $50 billion in assets, like Bank of America Corp., Goldman Sachs Group Inc., and JPMorgan Chase & Co.

Rite Aid Corporation (NYSE:RAD): Current price $3.55
Rite Aid said Friday that seasonal flu shots are now available at all its pharmacies across the United States. Customers may visit any of the more than 4,600 Rite Aid pharmacies to receive a flu shot, which are covered by the majority of insurance plans including Medicare Part B, from a Rite Aid certified immunizing pharmacist, under regulations. Flu shots are available during pharmacy hours and walk-ins are welcome.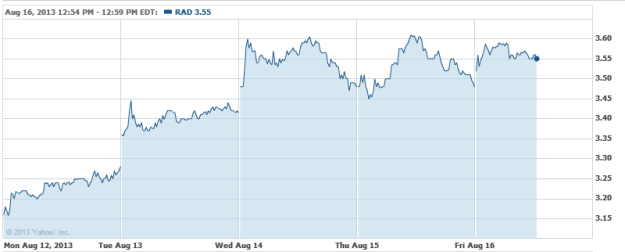 Investing Insights: What Will Cisco Do After This Earnings Release?