Elan Mulls Royalty Pharma Takeover and 2 Other Hot Stocks to Watch
Elan Corporation (NYSE:ELN): Current price $13.36
On Friday, Royalty Pharma announced, through Rule 2.5 of the Irish Takeover Rules, its intention to further raise its offer for Elan Corporation to $13 per share in cash, alongside a contingent value right worth as much as $2.50 per share. Elan's board acknowledged the revised offer, and said that it will as before assess the Royalty Pharma announcement, and advise its shareholders accordingly. Meanwhile, Elan shareholders are strongly advised to take no action regarding the offer.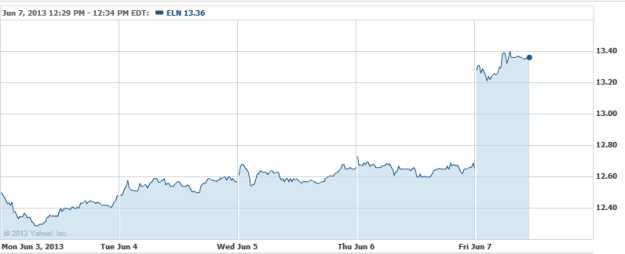 Bank of America Corporation (NYSE:BAC): Current price $13.26
BofA said Friday that it will submit a redemption notice to the institutional trustee for Progress Capital Trust IV, resulting in the redemption of all $5 million aggregate liquidation amount outstanding of the trust preferred securities of Progress Capital Trust IV designated as the Floating Rate MMCapS. The redemption date will be July 7, and the cash redemption price to be paid on that date will be $1,000 per trust preferred security. Accrued distributions for the full current quarterly distribution period of $9.1685 per trust preferred security will be paid to holders of record at the close on June 22nd in the customary manner. The bank has received all necessary approvals for these redemptions.

TiVo (NASDAQ:TIVO): Current price $11.31
The video recorder TiVo reports that it would receive $490 million following a resolution of a patent lawsuit with Google's Motorola Mobility, Cisco Systems and Time Warner Cable, some days before the suit was to go to trial. However, TiVo shares slumped in premarket trading due to disappointed shareholders expecting a larger payout. The shares had moved up by 8 percent on Thursday after Motorola Mobility announced the out-of-court settlement with TiVo. In February 2011,  Motorola had claimed that TiVo infringed its patents for digital video recorders, with TiVo bringing a counterclaim a month later. Meanwhile, TiVo will enter into patent licensing arrangements with Arris Group, Cisco, and Google as part of the resolution.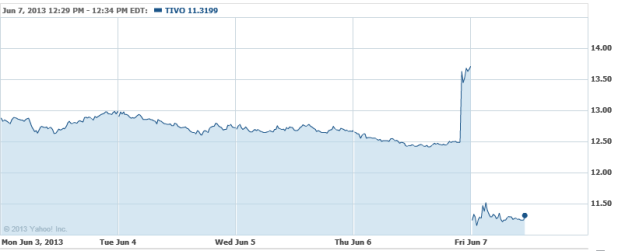 Investing Insights: Is Nokia Undervalued?