Eldorado Gold Halts Shipping and 2 More Stocks At 52-Week Lows
Career Education (NASDAQ:CECO): Closing price $2.23
The United States Department of Education has created a new interpretation that could disallow students at colleges from receiving federal financial aid if their schools are not accredited by the state in which they are located, says Inside Higher Education. The Department is not permitting colleges in Florida to get around state licensing requirements by declaring that they are accredited by a separate institution, according to the website, which also said that the new interpretation will not be enforced for distance education, but might be applied in states other than Florida. Shares closed down 2.62 percent on the day at $2.23, and have been traded in a 52-week range of $2.22 to $8.16.

Eldorado Gold Corp (NYSE:EGO): Closing price $8.50
Eldorado Gold reported that because to the damage sustained by the Anglo Ferrous ship loading facility at Santana Port, Amapa, Brazil on March 28, it will be temporarily unable to ship iron ore from its Vila Nova Iron Ore mine in Northern Brazil. The firm is exploring alternative interim options for the shipment of its ore. Shares closed down 9.38 percent on Tuesday at $8.50, having been traded in a 52-week range of $9.22 to $16.20.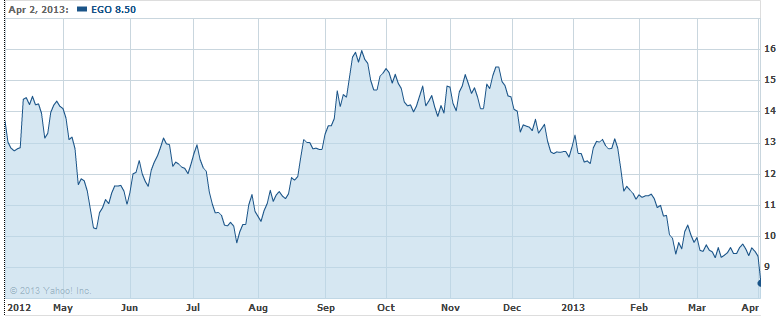 Walter Energy (NYSE:WLT): Closing price $24.15
The firm has a market cap of $1.78 billion and is part of the basic materials sector and metals & mining industry. Thus far in 2013, shares are down 26.9 percent as of the close of trading on Monday. Shares closed down 7.96 percent on the day at $24.15, and have been traded in a 52-week range of $24.05 and $69.41.

Investing Insights: What Do These Factors Say About Xerox?