Electronic Arts' COE: Yes, We are Not the Best Right Now
No company wants to be voted the worst company in America, and now Electronic Arts (NASDAQ:EA) finds itself being voted the worst company for the second year in a row on Consumerist's annual poll. This is due at least in large part to the disastrous release that EA experienced with Sim City earlier this year.
In response to this public embarrassment, EA's COO made a simple statement, promising that EA can do better and they will. He said, "I'll be the first to admit that we've made plenty of mistakes." He mentions a number of problems the company has had with their games including the most recent problem with the Sim City release.
In fact, after the botched debut of the newest Sim City installment, EA's CEO John Riccitiello stepped down and According to the COO, Peter Moore, more than 900,000 customers redeemed the free game that EA tried to offer as some kind of measure of redemption.
Although Moore admits that his company has had problems, he also thinks that it is worse due to what people have said about the company, such as the allegation that the "always on" feature of the Sim game was meant to be some kind of DRM. Regardless of the reasons for EA making the top of this list, it is sure that the company is going to do everything it can to avoid topping the list for a third year.
Here's how Electronic Arts has traded in 2013: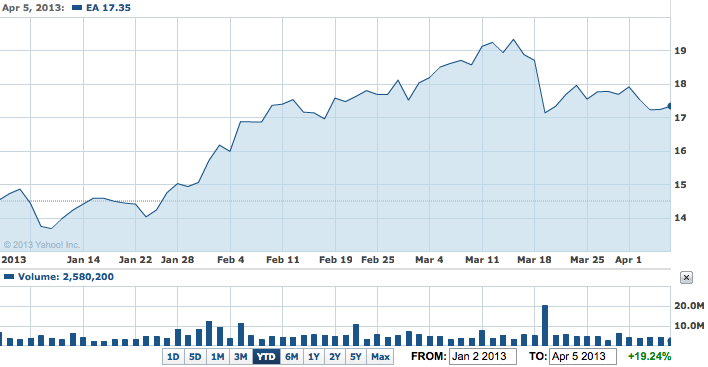 Investing Insights: Is LinkedIn Too Expensive?