Electronics For Imaging Earnings: Shareholders Cheer
Electronics for Imaging, Inc. (NASDAQ:EFII) swung to a profit in the first quarter, but still came up short of analyst expectations. Electronics For Imaging Inc. deals in color digital print controllers, super-wide format printers and inks and print management solutions.
Don't Miss: Wall St. Cheat Sheet's newest Feature Trades of the Month!
Electronics for Imaging Earnings Cheat Sheet for the First Quarter
Results: Swung to a profit of $6.2 million (13 cents/diluted share) in the quarter. The computer peripherals company had a net loss of $11.4 million or a loss of 25 cents per share in the year earlier quarter.
Revenue: Rose to $140.1 million from $110.8 million.
Actual vs. Wall St. Expectations: The estimate range for EFII was 15 cents per share to 28 cents per share with adjustments.
Quoting Management: "Our exceptional results in Q1, with 26% year-over-year revenue growth, are a strong indication of the opportunities ahead for EFI as we maintain our focus on the fastest growing segments of printing," said Guy Gecht, Chief Executive Officer of EFI. "The efficiencies and profitability our customers are achieving with EFI's innovative technology are driving strong growth across all three of our businesses. We look forward to furthering our market leadership and customer loyalty as we introduce innovative new products this week at Connect 2011, EFI's user conference, and the ISA industry show."
Competitors to Watch: Gerber Scientific, Inc. (NYSE:GRB), Oce N.V. (OCENY), Canon Inc. (NYSE:CAJ), FUJIFILM Hldgs. Corp. (FUJIY), Canon (NYSE:CAJ), Delphax Technologies, Inc. (DLPX), Xerox Corporation (NYSE:XRX), Sony (NYSE:SNE), Presstek, Inc. (NASDAQ:PRST), Hewlett-Packard Company (NYSE:HPQ), Evans & Sutherland Computer Corp. (ESCC), and Duoyuan Printing, Inc. (NYSE:DYP).
Today's Performance: Shares of EFII are up 1.34% in after hours trading.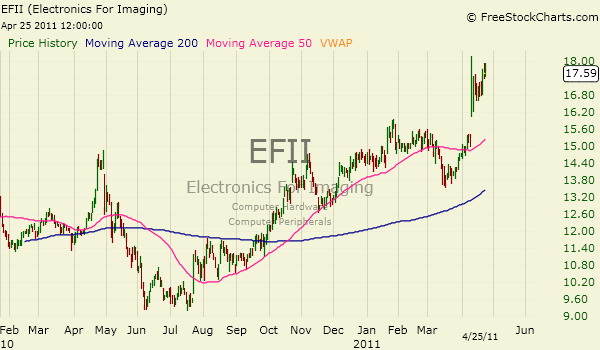 Don't Miss Wall St. Cheat Sheet's newest Feature Trades of the Month!