Eli Lilly Earnings: Pharma Profits Plummet
Rising costs did not help S&P 500 (NYSE:SPY) component Eli Lilly and Company (NYSE:LLY) in the first quarter as profit dropped from a year earlier. Eli Lilly & Co. develops and manufactures pharmaceutical products as well as animal health products.
Don't Miss: Wall St. Cheat Sheet's newest Feature Trades of the Month>>
Eli Lilly and Company Earnings Cheat Sheet for the First Quarter

Results: Net income for the drug manufacturer fell to $1.06 billion (95 cents/share) vs. $1.25 billion ($1.13/share) a year earlier. A decline of 15.4% from the year earlier quarter.

Revenue: Rose 6.4% to $5.84 billion YoY.

Actual vs. Wall St. Expectations: LLY fell short of the mean analyst estimate of $1.16/share. Estimates ranged from $1.04 per share to $1.30 per share.

Quoting Management: "Lilly started the year by delivering solid financial results as we continue to advance the next wave of potential new medicines in our pipeline," said John C. Lechleiter, Ph.D., Lilly's chairman, president and chief executive officer. "Growth in international markets and the strong performance of Cymbalta, Alimta and our animal health business drove volume-based revenue growth of six percent, despite a significant decline in Gemzar sales due to generic competition. This revenue growth allowed us to make necessary investments in research and development to address the challenges of upcoming patent expirations. We are on track to deliver on our 2011 headcount and expense reduction targets, as well as our goal of having at least ten potential new medicines in Phase three clinical development by the end of this year."

Key Stats:
Last quarter's profit decrease breaks a streak of three consecutive quarters of year-over-year profit increases. Net income rose 27.8% in the fourth quarter of the last fiscal year from the year earlier while the figure rose 38.3% in the third quarter of the last fiscal year and 16.4% four quarters ago.
Over the last five quarters, revenue has increased 5.9% on average year over year. The biggest increase came in the first quarter of the last fiscal year, when revenue rose 8.7% from the year earlier quarter.

Competitors to Watch: GlaxoSmithKline plc (NYSE:GSK), Pfizer Inc. (NYSE:PFE), Bristol Myers Squibb Co. (NYSE:BMY), Merck & Co., Inc. (NYSE:MRK), Johnson & Johnson (NYSE:JNJ), and Sanofi-Aventis (NYSE:SNY).

Today's Performance: Shares of LLY are trading at $35.42 as of April 18, 2011 at 8:39 AM ET, down 1.64% from the previous close.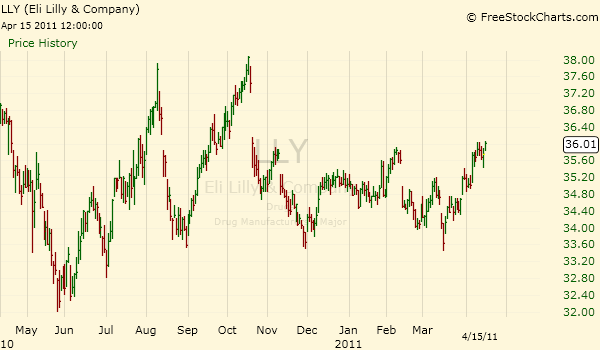 Don't Miss: Wall St. Cheat Sheet's newest Feature Trades of the Month!