Eli Lilly To Start Investment and 4 Stocks At 52-Week Highs
Eli Lilly And Company (NYSE:LLY): Closing price $56.50
The company reported that it is working closely with the city of Indianapolis on a proposal to invest an additional $180 million in its insulin manufacturing operations. The investment will be in addition to its November 2012 announcement of a $140 million expansion of the same. All told, the investments would permit Lilly to satisfy the growing insulin demand, given the increase in diabetes prevalence across the United States. Lilly also is proposing a number of other ancillary investment projects totaling approximately $80 million, including a $40 million product-inspection center. Shares closed down 0.19 percent on Tuesday at $56.50, and have been traded in a 52-week range of $39.16 to $56.94.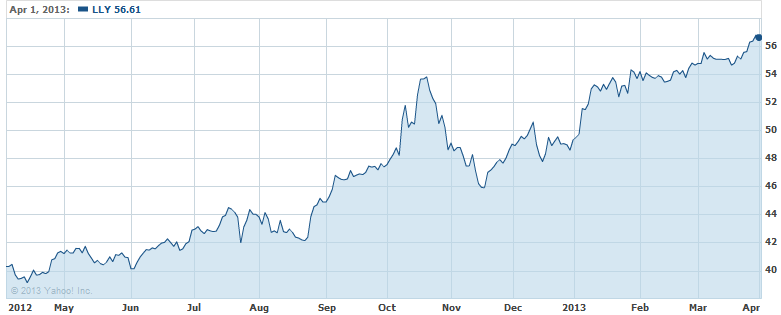 Medtronic (NYSE:MDT): Closing price $47.33
Medtronic has reported FDA 510K clearance and the first domestic clinical uses of its new Affinity Fusion oxygenation system. The system was created to incorporate several innovations for patient safety and ease of use. The system enhancements are designed to prevent and remove air bubbles that might enter the blood during the procedure, which may potentially lower the risk of stroke. Shares closed up 1.13 percent on the day at $47.33, having been traded in a 52-week range of $35.67 to $47.40.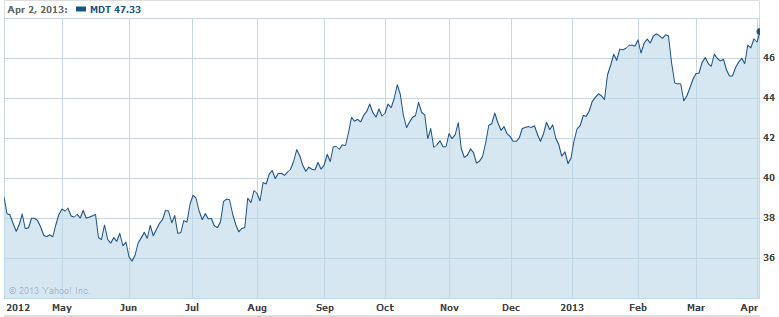 Media General (NYSE:MEG): Closing price $6.78
Gabelli has increased its position in Media General from 32.01 to 33.03 percent. Shares closed up 8.13 percent on Tuesday at $6.78, and have been traded in a 52-week range of $3.02 to $6.31.

McCormick & Company (NYSE:MKC): Closing price $72.62
McCormick reaffirmed that it expects to increase sales by between 3 and 5 percent in local currency, primarily from higher volume and product mix, and expects a minimal impact from foreign currency exchange rates based on current rates. The firm also reaffirmed guidance for a 6 to 8 percent increase in operating income, including projected CCI cost savings of a minimum of $45 million. The company's outlook for 2013 earnings continued in a range of $3.15 to $3.23, which includes the projected unfavorable impact of 11 cents from increased retirement benefit expenses. Shares closed down 0.12 percent on Tuesday at $72.62, having been traded in a 52-week range of $53.31 to $73.69.

New Source Energy (NYSE:NSLP): Closing price $20.41
New Source Energy Partners has acquired the oil and natural gas properties from New Source Energy Corporation, Scintilla, and W.K. Chernicky. The transaction closed on March 29, with an effective date of March 1, and was funded with the issuance of an aggregate 1,378,500 common units representing limited partner interests to the Contributors. The acquired assets should increase average output for the remainder of 2013 by more than 600 barrels of energy equivalent per day; approximately 10 percent oil and 54 percent NGLs following acquisition. The board anticipates approving a first quarter distribution of 52.5 cents per unit, or $2.10 per unit per year on an annualized basis, pro-rated from the February 13 closing of the Partnership's initial public offering through March 31. The distribution will be paid on May 15 to all unit holders of record on May 1. Shares closed up 2.87 percent on the day at $20.41, up $0.57 or 2.87 percent on the day. They have traded in a 52-week range of $19.19 to $20.55.

Don't Miss: Here are the Top 5 Blue-Chips of the Year.