Elop Will Exit Nokia With $25.5 Million, Rejoin Microsoft and 2 Other Hot Stocks to Watch
Nokia Corp. (NYSE:NOK): Current price $6.62
As Nokia's chief executive, Stephen Elop further developed the company's connections to Microsoft by making ties with the Windows Phone operating system, and now that Microsoft is taking over the Nokia cellphone arm for $7.2 billion, Elop is going to cash in.
Nokia said Thursday that its former CEO should take some 18.8 million euros, or $25.5 million, with him when he exits the company and goes back to Microsoft. Materials for a shareholder vote on the deal, detail the payment as 4.1 million euros worth of salary and management incentives; 100,000 euros in benefits; and stock awards valued at some 14.6 million euros. Roughly 70 percent of all this will be covered by Microsoft with Nokia obliged to shell out the remainder.

Regions Financial Corp. (NYSE:RF): Current price $9.32
The Alabama-based bank's Chief Credit Officer Barb Godin has been chosen one of the 25 Women to Watch in Banking and Finance for 2013 by American  Banker magazine. The yearly ranking recognizes the professional achievements, personal tenacity, and influence of top-performing female finance executives. This year's honorees will be recognized at an awards dinner and featured in the October 2013 issue of American Banker.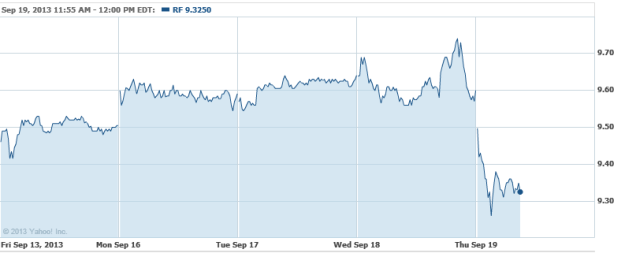 Citigroup Inc. (NYSE:C): Current price $52.32
Citi intends to issue benchmark five-year notes in the United States as demand by the extra yield investors to own financial-company bonds slumps. The bank could issue the securities as soon as Thursday, according to a knowledgeable source, who also said that Citi is managing the deal. Benchmark sales are usually at a minimum of $500 million. It is anticipated that the notes will be rated Baa2 by Moody's Investors Service, which is the second-lowest level of investment grade, said the source.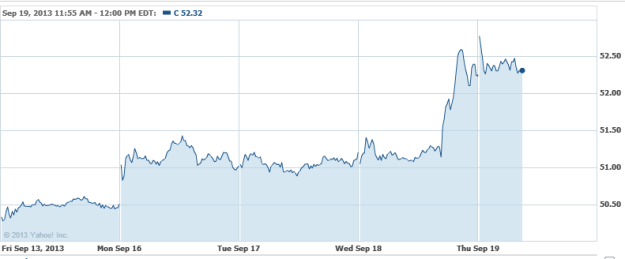 Don't Miss: Apple May Not Sufficiently Feed iPhone 5S Demand Come Friday.