Embarrassed About Your Credit Card Debt? You're Not Alone
Think about a couple of questions you wouldn't want to be asked on a first date. Topping the list are probably personal questions like "how much do you weigh?" or even "how old are you?" Revealing this information is embarrassing for many people who are insecure about one or the other, and would rather keep the details hidden from strangers.
Read more: Cashing In: 5 Credit Card Fees to Avoid
Worse, though, imagine being asked how much money you have in your bank account, perhaps after expressing interest in the cheapest bottle of wine on the menu. Worse than that, imagine that your date asks what your credit rating is, perhaps after you suggest splitting the bill with a modest tip. Even worse, perhaps as you exit the faux-fancy restaurant and head to the bus stop, imagine your date asks directly, how much credit card debt do you have?
Read more: 7 Surefire Ways to Improve Your Credit Score
According to a survey conducted by the National Foundation for Credit Counseling, of these five questions, the most people (37 percent of respondents) would be most embarrassed to be asked the latter. Next on the list is credit rating (30 percent), followed by weight (12 percent), then followed by bank balance (10 percent.)
Hypothetical first date scenario aside, there are a lot of reasons why people would be embarrassed to answer questions about their personal financial situation. For example, data collected by the Federal Reserve reveals enormous and rapidly rising consumer debt levels, and most people have a credit score that leaves something to be desired.
Despite debt-related embarrassment, Americans still can't seem to get enough. The total level of consumer credit outstanding in the U.S. has really only declined dramatically once, during and in the wake of the late-2000s financial crisis (the Fed's data begins in the early 1940s.) In most other periods, and in particular during the past two decades, consumer credit outstanding — the total amount that people have borrowed — has increased rapidly.
In 2013, the nation added $38.2 billon in credit card debt, up 8 percent from the $35.2 billion gain in 2012, according to a new analysis from CardHub. Despite paying down $32.6 billion in credit card debt in the first-quarter, consumers added $42.1 billion of debt during the fourth-quarter, representing the biggest quarterly increase in two years.
The good news at least is that the average rate of delinquency on credit card debt declined to about 2.4 percent in the fourth-quarter of 2013 from a high of about 6.8 percent in the second-quarter of 2009. This is the lowest level recorded by the Fed since records begin in 1991.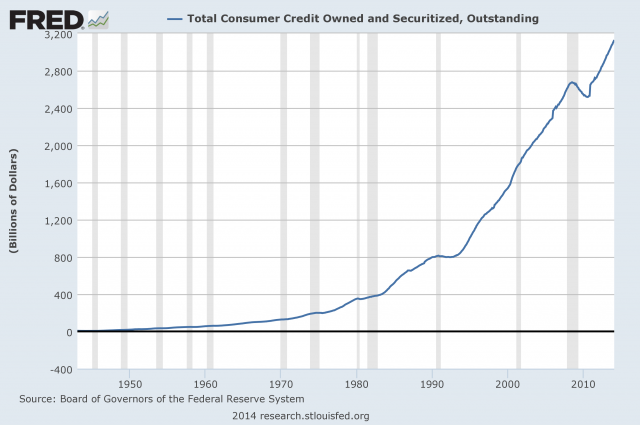 Average credit scores vary fairly dramatically between different demographics, but an age-based breakdown (two birds, one stone) reveals that many people have a credit score that could use a little love. See the graph below, courtesy of Credit Karma.
Using a different measure — the VantageScore rating used until 2013 — credit card holders in the U.S. earned, on average, a "D" or "Non-Prime" grade on their credit, and were carrying around an average debt burden of just over $4,500. Other measures, such as the one used by CardHub, put the average total debt level closer to $6,971.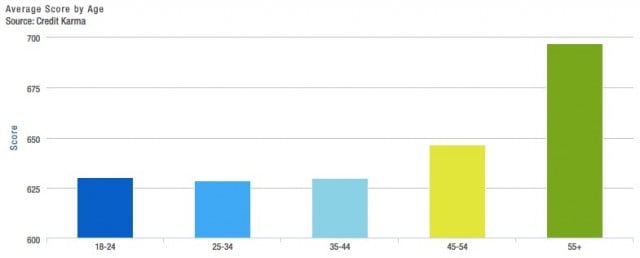 More From Wall St. Cheat Sheet: