EMC Corporation Earnings: Gross Margins Up in the Cloud
Although profit increased, S&P 500 (NYSE:SPY) component EMC Corporation's (NYSE:EMC) net income missed the mean estimate. EMC Corporation and its subsidiaries deliver and support a range of information infrastructure technologies and solutions.
Don't Miss: Wall St. Cheat Sheet's newest Feature Trades of the Month >>
EMC Earnings Cheat Sheet for the First Quarter
Results: Net income for EMC Corporation rose to $502.6 million (21 cents/share) vs. $372.7 million (17 cents/share) YoY. A rise of 34.8% from the year earlier quarter.
Revenue: Rose 18.4% to $4.61 billion YoY.
Actual vs. Wall St. Expectations: EMC fell short of the mean analyst estimate of 31 cents/share. Estimates ranged from 28 cents per share to 34 cents per share.
Quoting Management: Joe Tucci, EMC Chairman and Chief Executive Officer, said, "EMC is off to a strong start in 2011 with significant opportunity and long-term growth potential ahead. With market-leading virtualization and information infrastructure products and services, and a strong partner ecosystem, we are positioned squarely at the intersection of two of the most sweeping trends in IT – cloud computing and Big Data. These assets, along with a robust innovation pipeline, uniquely align EMC to help customers accelerate their journey to cloud computing and unlock the full value of their information."
Key Stats:
The company has enjoyed double-digit year-over-year revenue growth for the past five quarters. Over that span, the company has averaged growth of 20.9%, with the biggest boost coming in the second quarter of the last fiscal year when revenue rose 23.5% from the year earlier quarter.
Last quarter marked the fifth consecutive quarter of gross margins expanding as the company's gross margin expanded 7.1 percentage points to 71.3% from the year earlier quarter. Over that span, margins have grown on average 4.2 percentage points per quarter on a year-over-year basis.
The company has now seen net income rise in three-straight quarters. In the fourth quarter of the last fiscal year, net income rose 60.9% and in the third quarter of the last fiscal year, the figure rose 58.5%.
Competitors to Watch: International Business Machines Corp. (NYSE:IBM), Microsoft Corporation (NASDAQ:MSFT), Hewlett-Packard Company (NYSE:HPQ), Dell Inc. (NASDAQ:DELL), Western Digital Corp. (NYSE:WDC) , Brocade Communications Systems, Inc. (NASDAQ:BRCD), NetApp Inc. (NASDAQ:NTAP), and Red Hat, Inc. (NYSE:RHT).
Today's Performance: Shares of EMC are trading up close to 2% in pre-market.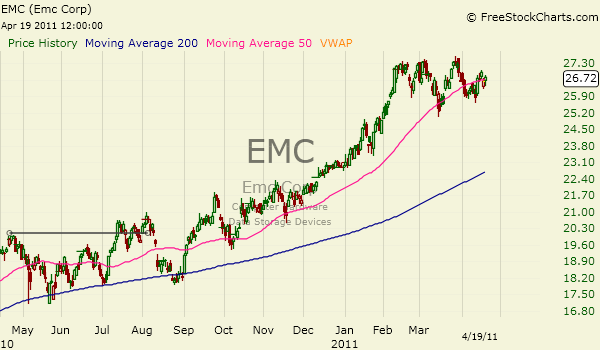 Don't Miss Wall St. Cheat Sheet's newest Feature Trades of the Month!