EMC Launches ViPR Storage Software and 2 More Heavily Traded Stocks To Follow
EMC Corporation (NYSE:EMC): Current price $23.29
The storage computer maker is debuting software that facilitates the management and automation its own data-storage devices along with those produced by rivals like NetApp. ViPR utilizes a concept called software- defined storage, in which the program behaves like a universal remote control, providing a common method to operate different machines, according to EMC Executive Vice President Jeremy Burton. Beyond that, ViPR will enable users to manage what is known as object storage, which is better for many new Internet applications. In April, EMC posted first-quarter earnings that lagged analysts' estimates, and is endeavoring to find new ways to profit from the storage market as companies slow their purchases, particularly of more expensive products.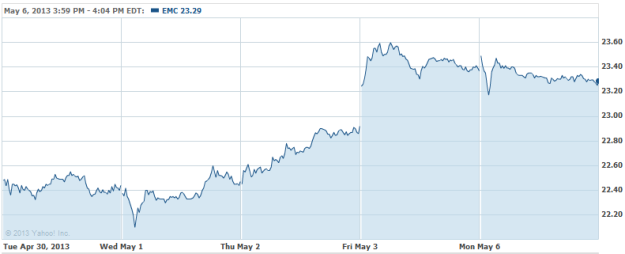 BlackBerry (NASDAQ:BBRY): Current price $15.57
A top Canadian telecom firm, TELUS Corporation (NYSE:TU) has recently unveiled the BlackBerry Q10 smartphone, which is available for $199, alongside a three-year contract for a minimum $50 per month service plan. Additionally, customers can choose a $700 plan with monthly contract plans. The most recent add to TELUS' line-up of devices looks positive for customer accretion, and observers expect the new range of smartphones to bolster data revenues as these operate on Telus 4-gigabyte LTE platform.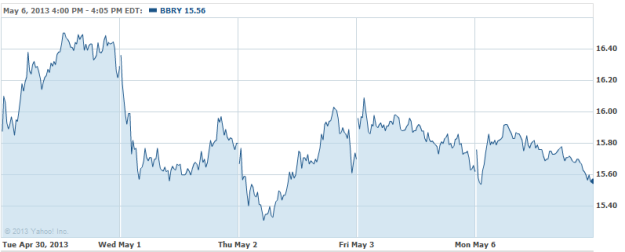 General Electric Company (NYSE:GE): Current price $22.58
General Electric's GE Global Research is honored to announce that Chief Engineer Dr. E. Trifon Laskaris, a pioneer in imaging technologies, has been awarded his 200th United States patent, a feat accomplished only before by Thomas Edison. GE Senior Vice President and Chief Technology Officer Mark Little remarked that 'This is amazing, but not at all unexpected accomplishment. Trifon's work speaks for itself. Without his decades of dedicated research into superconducting magnets, MRI technology would not be where it is today – a mainstay of hospitals around the world. I congratulate Trifon on this milestone not only in his career, but for GE as a whole."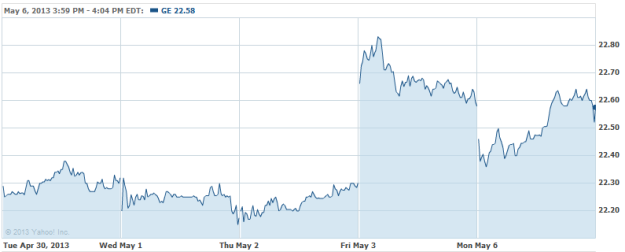 Don't Miss: Regulator Angst Could Hit Google Hard.