EMC's Isilon Rated Outstanding by Gartner and 4 Chip and Big Data Stocks on the Move
Broadcom Corp. (NASDAQ:BRCM): Current Price: $34.38
The company reported a loss in Q1 due to a heavy tax charge. However, adjusted earnings for the quarter saw improvement resulting from an increase in revenues and margins and it beat analysts' estimates. The company posted a loss of $21.26 million or $0.05 per share versus a profit of $58.58 million or $0.12 per share during the period the previous year. This includes a non-cash tax charge of $78.2 million or $0.17 per share.

QUALCOMM Incorporated (NASDAQ:QCOM): Current Price: $65.32
Just as Qualcomm could have possibly scored one of NVIDIA's juiciest spots in Google's next Nexus 7, investors have begun to contemplate that it is possible that Broadcom has the possibility of taking home one of Qualcomm's main flames, Apple. Qualcomm has been the exclusive supplier of baseband modems for Apple for the past two generations, but Apple has had not problem changing suppliers in the past.

ARM Holdings plc (NASDAQ:ARMH): Current Price: $43.61
The company continues to have a Buy rating at Citi following annual reporting. As a result, the stock's price target was boosted to 1,070 pence a share from 835 pence, giving it around 14 percent upside from the current share price.

Rackspace Hosting, Inc. (NYSE:RAX):Current Price: $59.19
Rackspace Hosting and GlobalSCAPE Inc. have been assisting more consumers in sharing their files via the cloud. GlobalSCAPE's mobile file-sharing product TappIn is now available on Rackspace Cloud Tools Marketplace.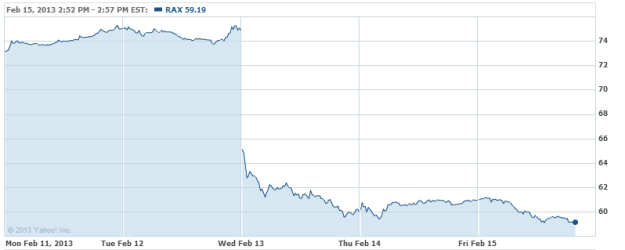 EMC Corporation (NYSE:EMC): Current Price: $24.01
Today, the company announced that its EMC Isilon product was recognized with an overall product viability rating of "outstanding" by Gartner, Inc. in its new "Critical Capabilities for Scale-Out File System Storage" report. This rating was given to EMC Isilon because of its ability to provide capacity, management, resiliency and scalability within its products and its rating in the designated use cases of Commercial HPC, Large Home Directories, and Backup and Archiving.

Investing Insights: Is EMC an Outperform?