Emerging Markets Are Dreading Bernanke's Next Move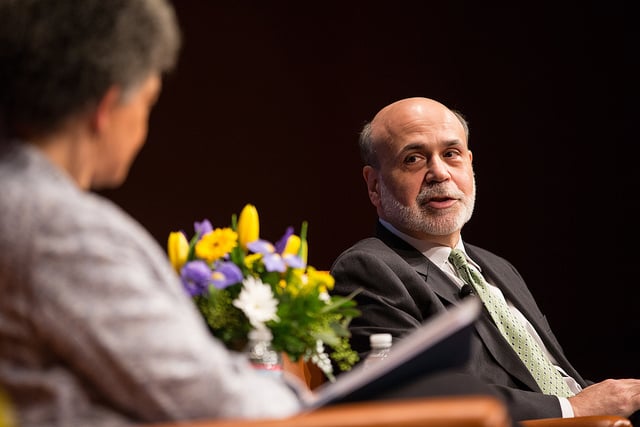 The true depth of the United States Federal Reserve's power has been on display recently, with emerging markets experiencing a slowdown as their U.S. and other large investors worry about a lack of future Fed stimulus. Banks including JPMorgan Chase & Co. (NYSE:JPM), HSBC (NYSE:HBC), and Standard Chartered Plc, could face a reduction in revenue, according to Cazenove, should Ben Bernanke decide to slow down the asset-purchasing program 'quantitative easing,' and allow interest rates to rise.
A recent selloff in emerging markets recently has induced a drop in foreign bond rates, with rates falling 3.5 percent in May, and Brazil experiencing its largest drop in rates since 2008. Cazenove, an investment firm owned by JPMorgan Chase, issued a report titled, "Fed Tapering: Who is Afraid of EM Selloff? We Are!" Analysts involved found that Credit Suisse Group AG (NYSE:CS) and Royal Bank of Scotland Group plc (NYSE:RBS) are the "most exposed to a slowdown in the securitization market."
The 'tapering' of Fed easing will largely be tied to labor market improvements in the U.S. economy later this year, as well as manufacturing numbers, which are currently stagnant. However, economic confidence is up, and indicators point to momentum in manufacturing later this year — all signs that the Fed will look to move away from stimulus.
JPMorgan Chief Executive Officer Jamie Dimon says that a normalization of interest rates is "a good thing," albeit conceding, "As we go back to normal, it's going to be scary, and it's going to be kind of volatile." Dimon's remarks were made earlier today in Chengdu, China, where the chief executive is attending a panel discussion at the Fortune Global Forum.
The concern is that as the Fed has created excess money for its member banks, these institutions have perhaps overindulged themselves in emerging markets, where the promise of future cash and high interest rates on bonds in these countries made for a lucrative opportunity. However, as these countries are developing, a slowdown in central bank stimulus means a slowdown in growth for them, as large banks will be less apt to stake so much capital in these markets. This sort of cyclical dependency will create at least a short term scare, and the OECD has already warned Federal Reserve Chairman Ben Bernanke to let off the easing with markets in mind and cause as little disruption as possible.
Bernanke's previous testimony to the Joint Economic Committee of Congress a few weeks ago only confirmed what most people expected. Speaking before Congress, he said that, "If we see continued improvement and we have confidence that that is going to be sustained, then we could in — in the next few meetings — we could take a step down in our pace of purchases."
The predictable nature of his speech has led at least one analyst to feel that markets are overreacting, with CNBC's John Carney calling the situation "way overblown," and adding, "We didn't learn anything this week that we didn't know before that, which is if the economic data's really good, the Fed will stop having to supply so much money into the system, and if the economic data isn't really good, they're going to keep doing it."
According to data released today, U.S. jobless claims decreased, preceding a report being issued tomorrow which is expected to show an increase in payrolls.
Don't Miss: Here's Why the Pressure to Cut Workers Hasn't Materialized.
More Stories Recommended for You: