Emirates to Boeing: Big Orders Mean Big Expectations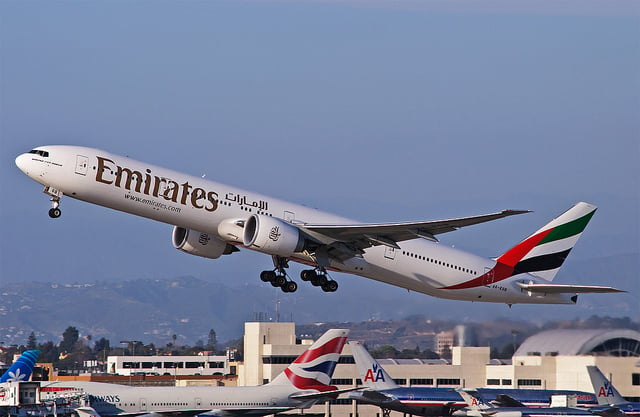 Boeing Co. (NYSE:BA) started taking orders on its soon-to-be completed 777X jetliner last month, and Emirates put in a huge request — the largest ever, in fact. Now the airline is maintaining understandably firm pressure on Boeing to meet specification expectations.
"You're looking at high numbers. That's why it's so important to us even at this very late stage that we get it absolutely right," said Emirates President Tim Clark to Bloomberg. The 777X purchase would be used to replace Emirates's current fleet of 777s.
Emirates is Boeing's biggest customer, and as a result, the airline is looking to have manufacturers nudge the design in the airline's favor. For example, Emirates — based in Dubai — is looking for extra thrust power in the planes to aid in hot-climate takeoffs. According to Clark, Boeing is "not quite there yet" and still has "work to do" on the jetliner before Emirates will feel comfortable with a deal, Bloomberg reports. The airline may unveil an agreement at the Dubai Airshow later this month.
Airbus, a subsidiary of the European Aeronautic Defense and Space Co. (EADSY.PK), is one of Boeing's biggest competitors. Airbus had its newest A350, the A350-1000, on the market three years ahead of Beoing's 777X — which Clark believes won't arrive until 2020. "There are other airplanes in the frame. They're improving the Airbus A350-1000," he said in his interview with Bloomberg, though at present, he and other airline executives are not entirely pleased with the performance of the A350, either.
According to Airbus, its A350-1000 model has 25 percent improved operating economics over Boeing's 777-300ER. Clearly, competition is tight, and Emirates is in a good position to be demanding, holding major orders over the heads of both Airbus and Boeing.
General Electric (NYSE:GE) manufacturers jet engines for Boeing and has said that there is still work that needs to be done before the newest aircraft is ready. A GE spokesman spoke specifically about the water-injection system to Bloomberg, telling the news service it was years away.
Don't Miss: 5 Ways to Fly Without Breaking the Bank.