Employees Out JCP's Misleading Sales Strategy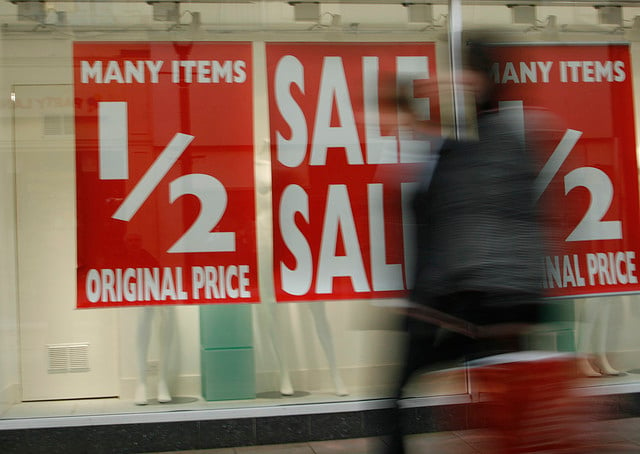 The psychology behind a sale is fairly straightforward: convince a shopper that the sale price is a rare deal, and the question "why not?" becomes harder to answer, especially if the discount is really good, or the shopper was considering making a purchase already. But, the truth is, the price on the sticker might not be as much of a bargain as the customer thinks.
J.C. Penney (NYSE:JPM), with its recent, radical changes in pricing, provides a perfect example of the financial games retailers play with their prices. By questioning several current and former Penney employees, ABC's Today Show was able to uncover how the retailer's sales prices were misleading.
When Ron Johnson left Apple (NASDAQ:AAPL) and took on the mantle of chief executive officer at J.C. Penney in November 2011, his leadership was expected to launch a rebirth of the 111-year-old department-store chain. Johnson envisioned a company that could offer everyday low prices, and boost its offerings with a wide range of small boutiques from designers like Levi's or Sephora. His eventual plan was to turn most of the chain's stores into a cluster of approximately 100 boutiques.
But his attempt to revitalize the chain and transform the business has not happened. His change of the company's pricing structure — which eliminated coupons and massive sales in favor of "everyday-low prices" — drove customers away instead of drawing them in. Shoppers coming into stores decreased by 13 percent in the twelve-month period ended February 2, the last financial report made before Johnson left the company.
Even before his departure, the company began to move back to the previous method of pricing, a transition that his successor, Mike Ullman, has continued. The company said at the time, and in a recent statement, that a pricing strategy dependent on sales was what its customers wanted. However, employees told ABC's Today Show that J.C. Penney was simply artificially inflating prices before putting items on sale.
A former employee — Gena Stone — said that she saw that particular strategy in play at the store she worked for in Virginia. "All of a sudden, the rack of $7 shorts became $14, and then they were 50 percent off," she told the news outlet via email.
Bob Blatchford, who is still employed at a J.C. Penney in Florida, said that he saw pricing teams "raising the prices, mostly doubling" the cost of items like towels and clothing. "Then they would go on sale, and they wouldn't always go on sale for 50 percent off," Blatchford told the Today Show. "So it was — not only was it a fake sale, but they were actually paying more than they would have been previously."
To gather field evidence, the Today Show checked the price of a 725-dollar Dyson vacuum cleaner, which was on sale for $649, with the manufacturer. That check showed that the sale price was the same as the manufacturer's suggested regular retail price.
Further corroborating evidence was supplied by Priya Raghubir, a professor of marketing at New York University. She told the news outlet that many retailers just use "sale" signs to lure in shoppers. "I think it's very widespread," she said, regarding such pricing. "You feel smart, you feel happy, and you feel you've got a great deal."
"We certainly acknowledge that a significant amount of changes were made over the last year under previous leadership. It's no secret that some of those changes worked well and some didn't," said the statement J.C. Penney released in response to the investigation, referring to the everyday low pricing structure that was "ultimately rejected" by the company's core customer base.
"We learned that our customers are motivated by promotions and prefer to receive discounts through sales and coupons applied at checkout," the statement continued. "As such, we have returned to the promotional pricing model employed often in the retail industry. This shift requires us to make pricing changes on much of the merchandise to remain competitive.
Don't Miss: Are the Super Wealthy Buying Stocks Again?
Follow Meghan on Twitter @MFoley_WSCS