Employment Costs: Good for Employers, Bad for Workers
The Employment Cost Index is a closely watched gauge as it indicates whether or not the job market will contribute to inflation. As the Labor Department reported Tuesday, employment expenses grew in a slow pace in the first quarter, a sign that the purchasing power of the American consumer remained strong during the three-month-period.
Increasing just 0.3 percent, the employment cost index posted its smallest gain since the third quarter of 2011 and came in below the median estimate of economists polled by Bloomberg. Comparatively, employment costs rose an average of 0.9 percent per quarter in the five years before the recession began in December of 2007. A fractional 0.1 percent quarterly gain in benefit costs — a component of the headline index — held back the ECI slightly. However, the growth in benefit costs, which was the smallest on record, may have been partly influenced by an error in the data for sales and office workers, according to the report.
The Bureau of Labor Statistics is expected to correct the benefits data, although it did note that the slowing in this segment may not entirely be the result of technical errors. But, as there was some confusion regarding benefits growth, the wages and salaries component of the ECI will be under the microscope of the Federal Reserve during its Federal Open Market Committee meeting, which begins Tuesday. With these figures showing slow growth and few signs of inflation, the Federal Reserve's policy makers are expected to continue their strategy of injecting money into financial markets.
Employment costs have remained low as slow economic growth and stubbornly high unemployment has enabled employers to keep worker pay and other costs from rising too high. The result — limited wage growth — has made it more difficult for American consumers to spend, which, in turn, is a worry for gross domestic product as consumer spending accounts for about 70 percent of the economy. For the three-month period, wages rose just 0.5 percent, climbing slightly above last quarter's gain of 0.3 percent.
"There's a lot of slack in the labor market and the economy's recovering only slowly," RBS Securities economist Guy Berger told Bloomberg. "There's very little upward pressure on compensation for American workers." However, the Labor Department is forecast to report an 150,000-job increase on May 3, after the disappointing payroll gain of 88,000 that was recorded in March.
Economists polled by Bloomberg had expected a 0.5 percent rise in the employment cost index, which measures the costs of wages, benefits, and employer-paid taxes such as Social Security and Medicare for companies.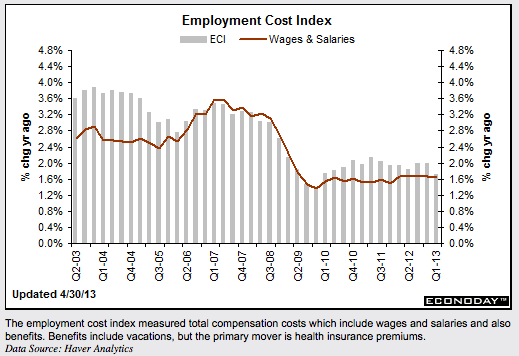 Don't Miss: The Markets Love These Economic Reports.