Emulex Corporation Earnings: Swinging to a Loss
Emulex Corporation (NASDAQ:ELX) reported a swing to a loss in the third quarter driven by higher costs. Emulex Corporation is the provider of a broad range of network convergence solutions that intelligently connect servers, storage and networks within the data center.
Don't Miss: Wall St. Cheat Sheet's newest Feature Trades of the Month!
Emulex Earnings Cheat Sheet for the Third Quarter
Results: Swung to a loss of $18.6 million (21 cents/diluted share) in the quarter. The Emulex Corporation had a net income of $13.3 million or 16 cents per share in the year earlier quarter.
Revenue: Rose 9.7% to $112.1 million YoY.
Actual vs. Wall St. Expectations: ELX fell short of the mean analyst estimate of 10 cents/share. Estimates ranged from 9 cents per share to 11 cents per share.
Quoting Management: CEO Jim McCluney commented, "I'm very pleased with our results for the March quarter, delivering revenues at the high end of our guidance. HSP revenues for the quarter increased more than 20% from the prior year, with particular strength in our 10Gb/s family of products as we continued to consolidate our early leadership in network convergence. This was complemented by strong sequential growth in our Embedded Storage Products," McCluney continued. "Looking ahead to the fourth quarter, we are modeling for 16% year over year revenue growth at the midpoint of our guidance and we are keenly focused on operational efficiencies to further increase shareholder value," concluded McCluney.
Key Stats:
Over the last five quarters, revenue has increased 19.1% on average year over year. The biggest increase came in the third quarter of the last fiscal year, when revenue rose 30.1% from the year earlier quarter.
Competitors to Watch: Brocade Communications Systems, Inc. (NASDAQ:BRCD), QLogic Corporation (NASDAQ:QLGC), LSI Corporation (NYSE:LSI), Hewlett-Packard Company (NYSE:HPQ), EMC Corporation (NYSE:EMC), Intel Corporation (NASDAQ:INTC), Dell Inc. (NASDAQ:DELL), Oracle Corporation (NASDAQ:ORCL), Cisco Systems, Inc. (NASDAQ:CSCO), and Intl. Business Machines Corp. (NYSE:IBM).
Today's Performance: Shares of ELX are down 3.38% in after hours trading.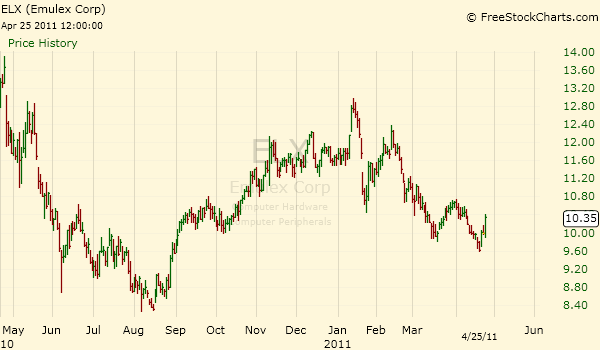 Don't Miss Wall St. Cheat Sheet's newest Feature Trades of the Month!