Entergy Corp Takes No Blame for Super Bowl Blinkout and 4 Morning Hot Stocks Trading Now
Dell Inc (NASDAQ:DELL): Current Price $13.39
According to the Wall Street Journal, Dell Inc (NASDAQ:DELL) shareholders can expect to receive from $13-$14 per share in the impending buyout that would take the company private. This was the latest price under negotiation as on Sunday, according to sources familiar with the developments.

Acme Packet (NASDAQ:APKT): Current Price $29.29
Acme Packet (NASDAQ:APKT) is being acquired by Oracle Corp (NASDAQ:ORCL) in a $2.1 billion deal that pays $29.25 in cash for every share held in the former. "Acme Packet brings deep domain expertise and proven, mission-critical solutions to enable all- IP networks," said Andy Ory, Chief Executive Officer, Acme Packet. "Together with Oracle, we expect to provide customers with purpose-built, innovative solutions to accelerate the deployment of all-IP networks and help deliver a superior experience across services, devices and networks." Acme Packet reported today fourth quarter EPS of $0.09 and revenue of $70.7 million which beat by $0.01 and $2 million respectively.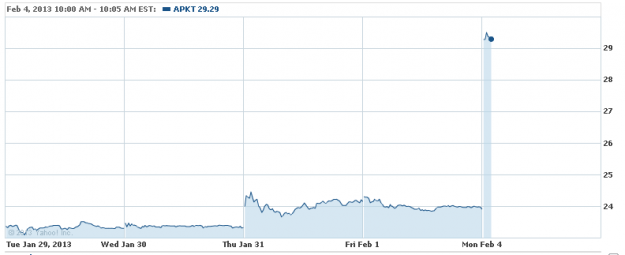 Entergy Corp (NYSE:ETR): Current Price $64.36
Electricity supplier Entergy Corp (NYSE:ETR) declares itself blameless for a power failure during a Louisiana Super Bowl football game. The problem was caused by a fault in the Superdome's own equipment, says Entergy. Lights at the stadium went on the blink during the third quarter of the game, and it took all of 34 minutes for the game to resume.

Anheuser-Busch InBev (NYSE:BUD): Current Price $89.49
Anheuser-Busch InBev (NYSE:BUD) has issued a strong statement regarding the action taken by the US Department of Justice to block the company's proposed $20 billion acquisition of Mexican brewer Grupo Modelo. Claiming the decision is "inconsistent with the law, the facts and the reality of the marketplace," Anheuser-Busch InBev says, "we remain confident in our position and we intend to vigourously contest the DOJ's action in federal court."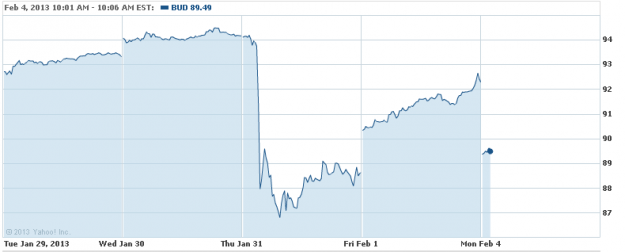 US Airways Group (NYSE:LCC): Current Price $14.17
Claiming that it has made significant progress in its restructuring, including negotiations on a likely merger with US Airways Group (NYSE:LCC), American Airlines (AAMRQ.PK), which is under bankruptcy protection, has asked for a further extension of the deadline to file its reorganisation plan to April 15. The current deadline expires on March 11.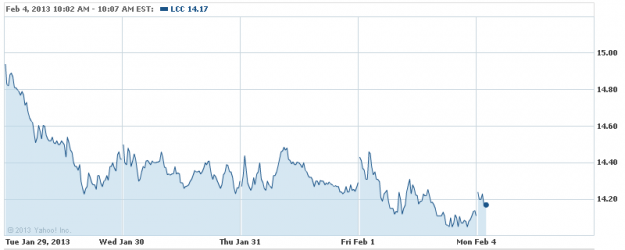 Don't Miss: Does the FTC Think Herbalife Is a Pyramid Scheme Too?