European Economic Sentiment Slides As Recovery Stalls
Data released on Monday add to a growing body of evidence that suggest that the euro zone may be further from a recovery than some had expected. The Economic Sentiment Indicator, compiled by the European Commission, decreased by 1.5 points in the EA17, and decreased by 1.8 points in the EU27, trending well below the long-term average.
Perhaps most troubling is that economic sentiment worsened significantly in major economies such as Germany (-2.3 points), France (-2.0 points), and Italy (-1.9 points). Overall, the index dropped to 88.6, which compares against the long-term average set to 100. The decline was more than expected, with economists polled by Bloomberg forecasting a decline to 89.3.
As the situation in Cyprus winds down from red to orange alert, policymakers have earned the opportunity to step back and survey the condition of the EU at large. Greece, Italy, Spain, Ireland, and France (among others) all remain in one form of Troika-orchestrated economic recovery or another. Controversial austerity measures remain in effect as consolidation remains a priority. Government deficit levels are coming down and, with a semblance of stability restored, yields on most sovereign debt has come down as well.
Italy provided evidence of this on Monday when it successfully sold 3 billion euros ($3.98 billion) worth of 10-year bonds at 3.94 percent, down from as much as 4.66 percent a month ago.
But a series of recently-released indicators suggest that things may get worse for the European economy in the coming months. The flash Markit Eurozone PMI reading for April remained flat at 46.5, indicating that the region's economy is stuck in contraction. The services index edged up slightly to 46.6, still in contraction but also a two-month high. The manufacturing index dropped to 46.5, a four-month low.
Markit Chief Economist Chris Williamson commented: "Although the PMI was unchanged in April, the survey is signalling a worrying weakness in the economy at the start of the second quarter, with signs that the downturn is more likely to intensify further in coming months rather than ease."
In line with the economic sentiment report, the flash reading for the German Composite Output Index fell to 48.8, a six-month low indicating contraction in the region's largest economy.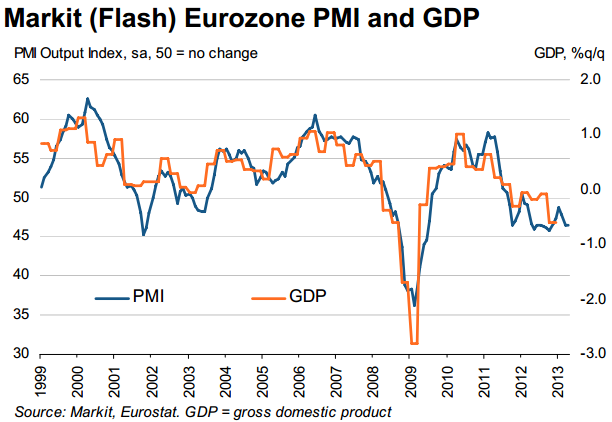 Don't Miss: Obama's Plea Persuades GE to Shoot Down Gun Financing.