European Industrial Production Tanks in October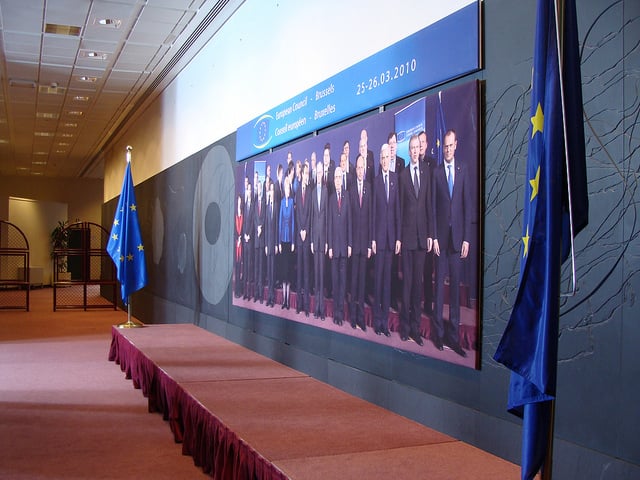 The latest data show that the eurozone's economic recovery is still susceptible to external factors. Industrial production in the eurozone dropped by 1.1 percent in the month of October 2013, a sharp decline the likes of which have not been seen in some time. This brings the annual increase in industrial production down to just 0.2 percent, erasing most of the slow but steady gains that the region had posted throughout the past year.
The numbers have already sparked comments that the region's economic recovery is still very frail, making it susceptible to outside fluctuations. An analyst at Ernst and Young said that, "While the numbers do underline the relative fragility of the eurozone recovery, they shouldn't provide too much ground for pessimism over a relapse into recession in the final quarter of the year." According to that point of view, the decline was mainly a reaction to the stock market ending its bonanza during the month, leaving industrial production to drop in a corresponding fashion.
By far the hardest hit country in the overall drop was Ireland, where industrial production plummeted by 11.7 percent in October. This is not good news for the country that is set to exit its eurozone bailout in a manner of days, all without taking a precautionary line of credit from the European Central Bank. Malta and the Netherlands rounded out the list of poor performers during the month.
The highest honors in the region went to countries such as Denmark, Romania, Lithuania, and the Czech Republic, all of which posted modest gains during this past October. While this does show that at least the decline is not impacted some of the region's smaller economies, it also indicates that many of the region's largest economies did not end up in the black. Nations such as Germany and France, the region's two largest economies, did not lead the way, compounding the eurozone's problem of getting things turned around completely in those nations.
One of the sharpest drops was reported in the energy sector, where industrial output declined by 4 percent during the month of October. With fuel prices declining — and expected to continue dropping over the course of the next year and on more long-term horizons — this is a trend that could very well continue to occur. For countries that are dependent on fuel exporting as their primary business, this technological and economic trend could prove to be both very costly and very damaging. Already, Russia has had to significantly lower its economic prospects over the next 15 years, partially a reflection of the global fossil fuel climate.
Don't Miss: Top 10 International News Stories of 2013.